Talking Finding Dory with Ellen DeGeneres and Ed O'Neill
I was so excited when I found out that I was heading to the World Premier of Finding Dory.  A few weeks later that excitement increased when I found out some of the amazing people we were interviewing. I had the opportunity to sit down with Ellen and Ed O'Neill and 23 other bloggers. When Ellen entered the room she started clapping as she went around the table. She sat down and beside her sat Al Bundy, I mean Jay Pritchett – Mr Ed O'Neill.
It was one of those "pinch me" moments. I could hardly believe I was in the same room with them.  They were both so kind and genuine.  I also really enjoyed the way they interacted with each other when responding to our questions.  So it really surprised me when I found out they didn't even do the scenes together.
"Andrew [director] always read it [Ed's part]" Ellen shared with us and then when she actually heard his voice in the character rather than Andrew Stanton she explained "I saw Ed's character come to life, and I was like, 'Oh, this is so perfect, and he's so perfectly grumpy.' "
Hank is a grumpy octopus that befriends Dory with a motive. it's fun to watch their relationship grow and blossom through the film.
When Ed started explaining his role he shared that he had no idea it was big part. He thought he was doing a cameo.
"Ed was saying he really didn't know what his part was going to be and how big his part was going to be. He just showed up because there was no script and he thought he was doing a day thing." Ellen shared with us.
"Because I had done sort of a cameo in Wreck It Ralph, and so when they called me and said, 'Oh, they want you to do this thing, this sequel to Nemo,' I said, 'Okay, well, what is it?' " Ed chimed in. "I had no idea. After a while, I said, 'this is a bigger part than I thought it would be.' "
One of the questions we had asked the two of them was "Whenever Dory has a difficulty in life, she has three words that keep her moving. Are there any three words that keep you going when you face a challenging time?"
"Just keep punching." Ed laughed  "But that was always my motto, now it gets more difficult to punch."
Ellen shared that her motto would be the same as Dory's – just keep swimming.
"It's weird that that became a part of this iconic character, because I didn't know it before this happened, but that was my motto. My life has gone through a lot of different twists and turns, and I did just keep swimming. I didn't realize that that was what I was doing. But I just kept moving forward, and I just kept doing what I know how to do, which is make people happy and make people smile and make people laugh."
Her motto and they way she treats people are the main reason I'm such a fan of hers.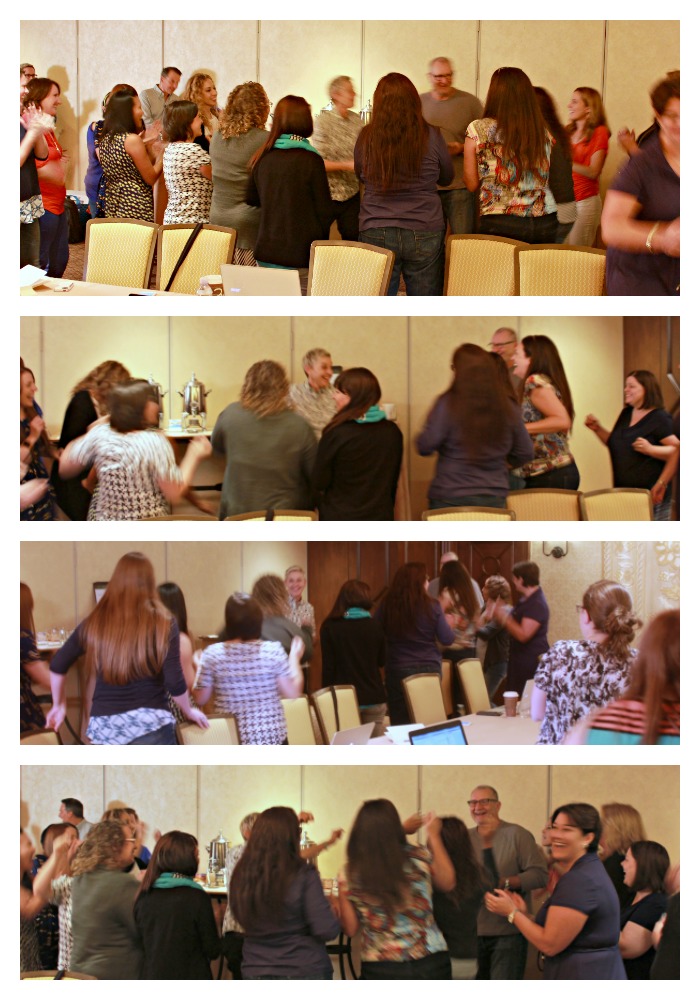 Of course my all time favorite question was if we could dance with Ellen. This has been a bucket list item for me so I jumped up and danced away (I'm in the gray sweater, curly hair).  It was surreal and I can still hardly believe we were dancing with Ellen and Ed. The pics are blurry because we were moving so much, but I'll take them!
We also had to get a group photo with them before they headed out.
You will love Dory and Hank in Finding Dory. It hits theaters everywhere June 17th!