I was at the FINDING DORY World Premiere!
#FindingDoryEvent #HaveYouSeenHer
I was at the Finding Dory world premier!
13 years ago I fell in love with a movie – Finding Nemo. I especially fell in love with a blue Tang named Dory. She was forgetful, determined, and lovable. She was also voiced by the amazing Ellen DeGeneres who kept asking to make a sequel.  Now, 13 years later, that sequel is here. I had the incredible opportunity to head to Los Angeles along with 23 other bloggers to attend the world premiere.
They shut down Hollywood Blvd in front of the El Capitan Theatre.
And there were stars everywhere. It wasn't just the cast that was famous, but also famous moms and dads bringing their own children to watch the movie for the first time. Remember, this was the *world* premiere which means I was fortunate enough to be one of the first ones in the world to see it.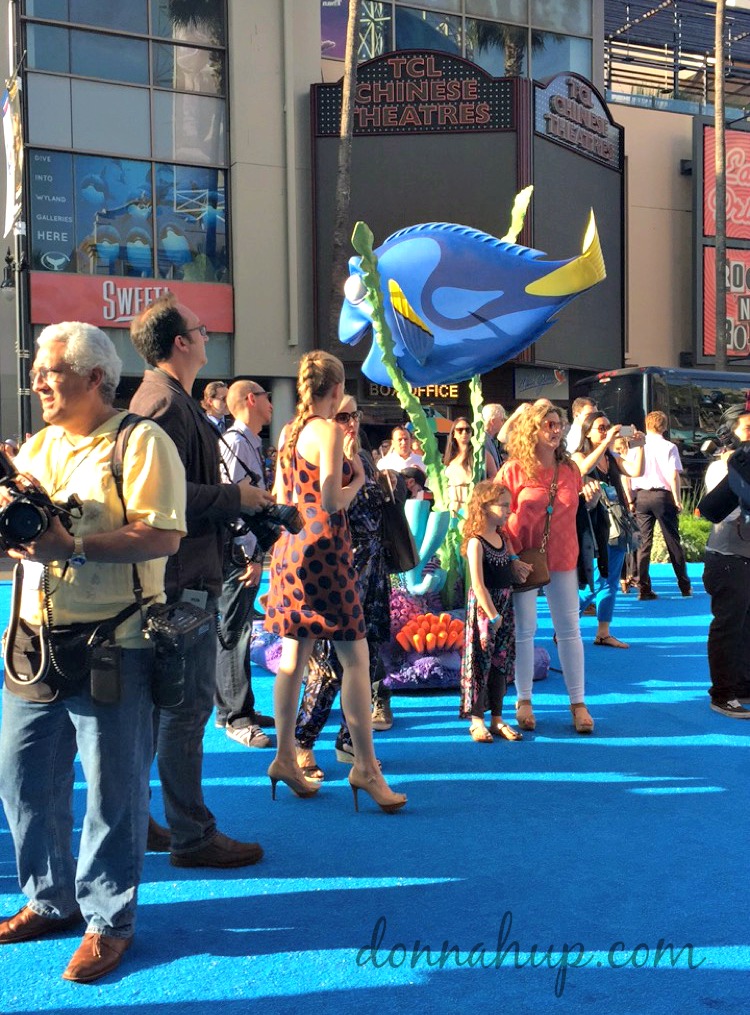 The best way to describe it is high energy. You have fans screaming for their favorites, photographers and tv personalities asking for pictures and interviews, security telling you to move along down the carpet, and everyone taking selfies.  It's a surreal moment where you just take it all in.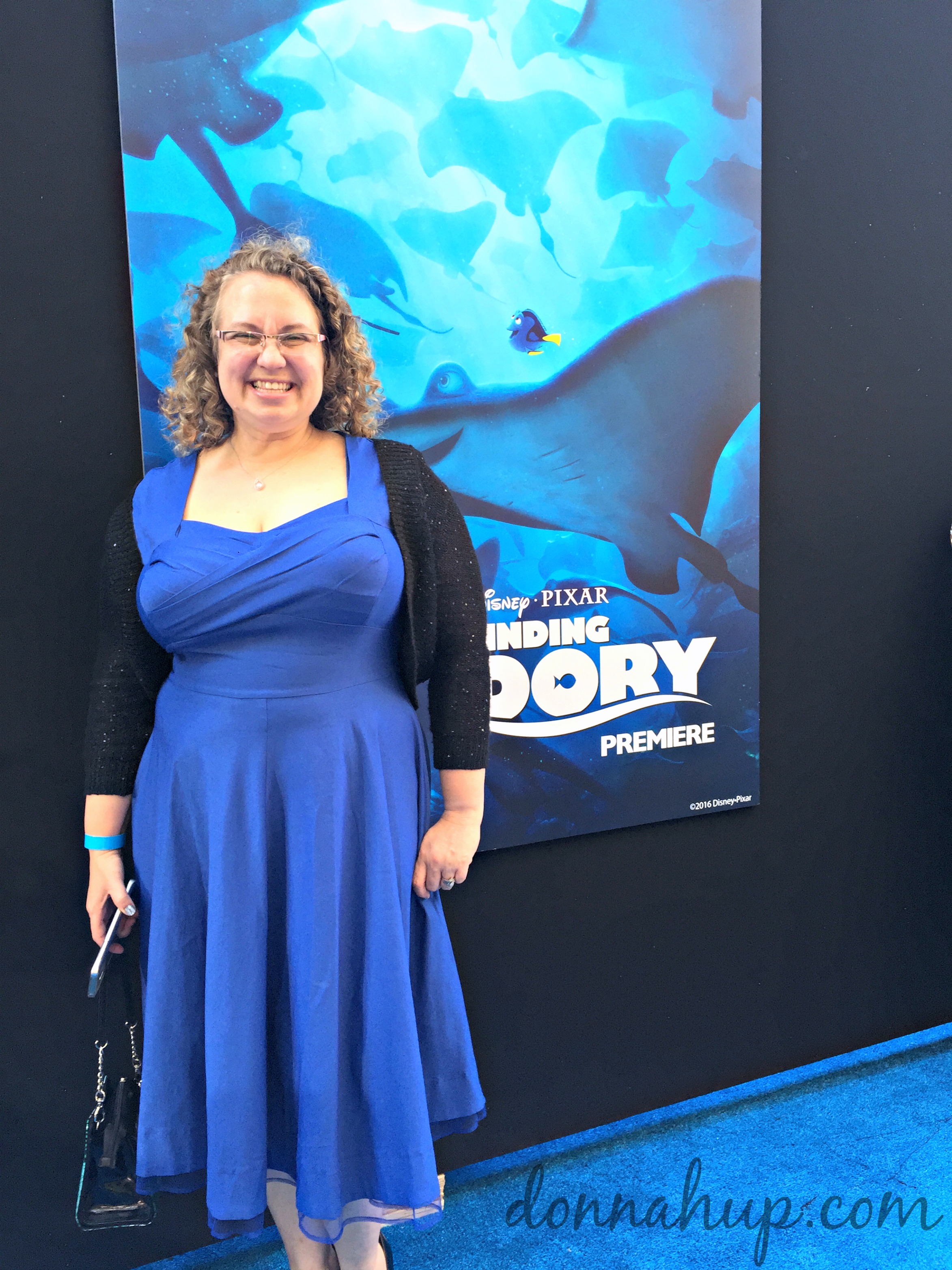 And take selfies and lots of pictures too, of course. This was an amazing night.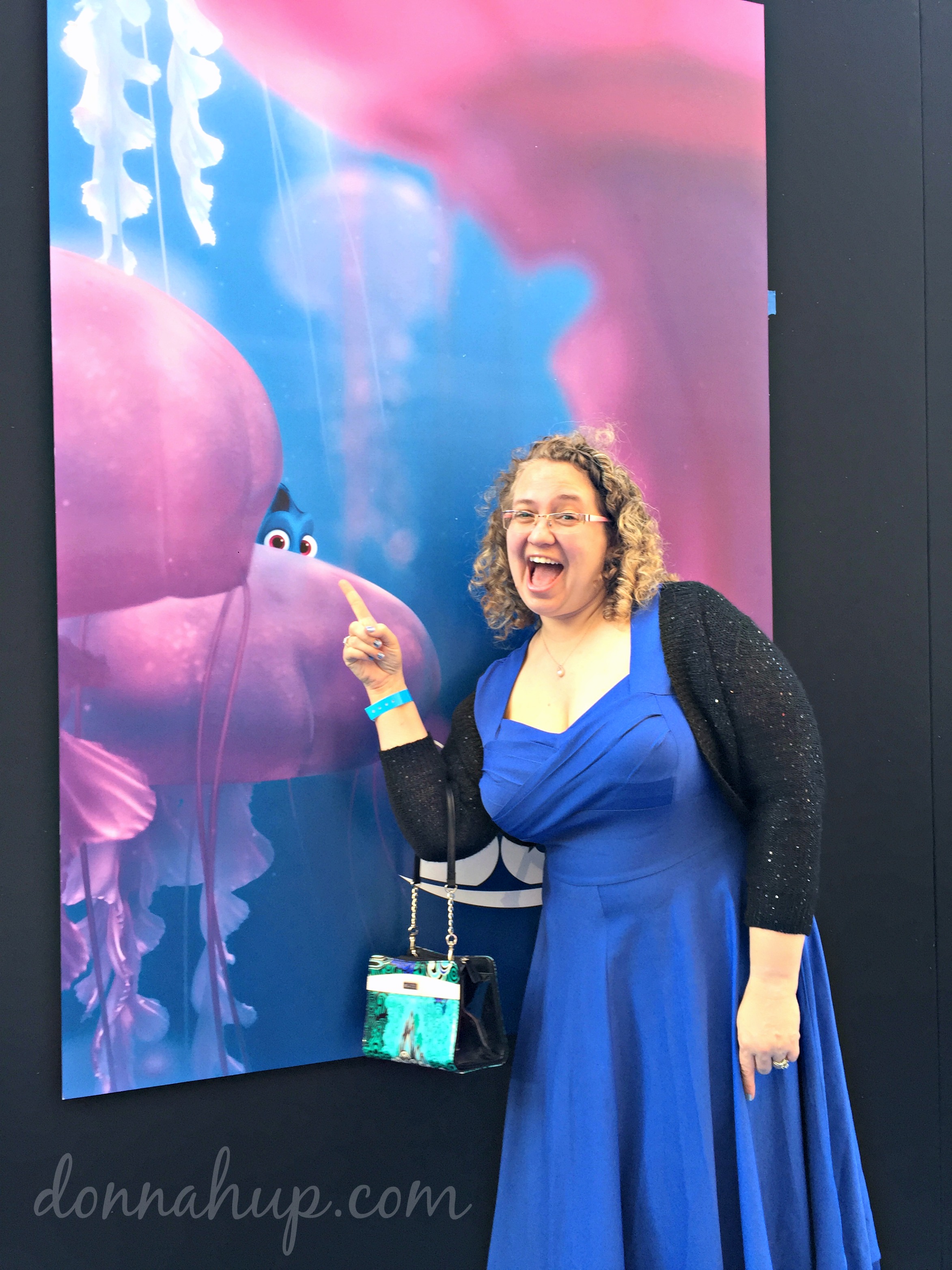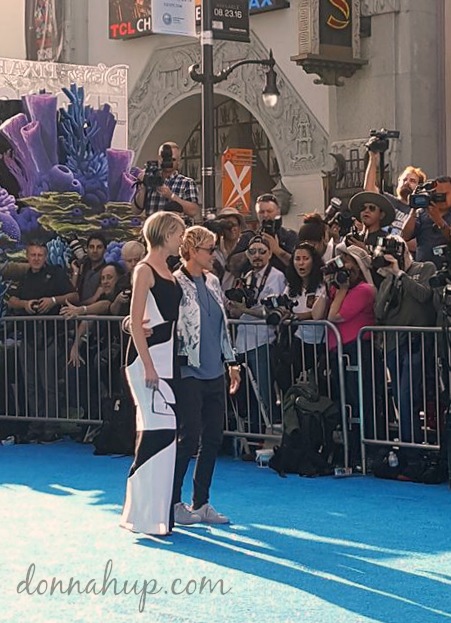 And sometimes you have your own fan girl moments like when you see Ellen just feet from you on the carpet.
After walking down the carpet you enter the theatre that is packed.  They have their own organist that plays all sorts of Disney favorites. I don't have any pictures of that because I did have to check my phone before I went in.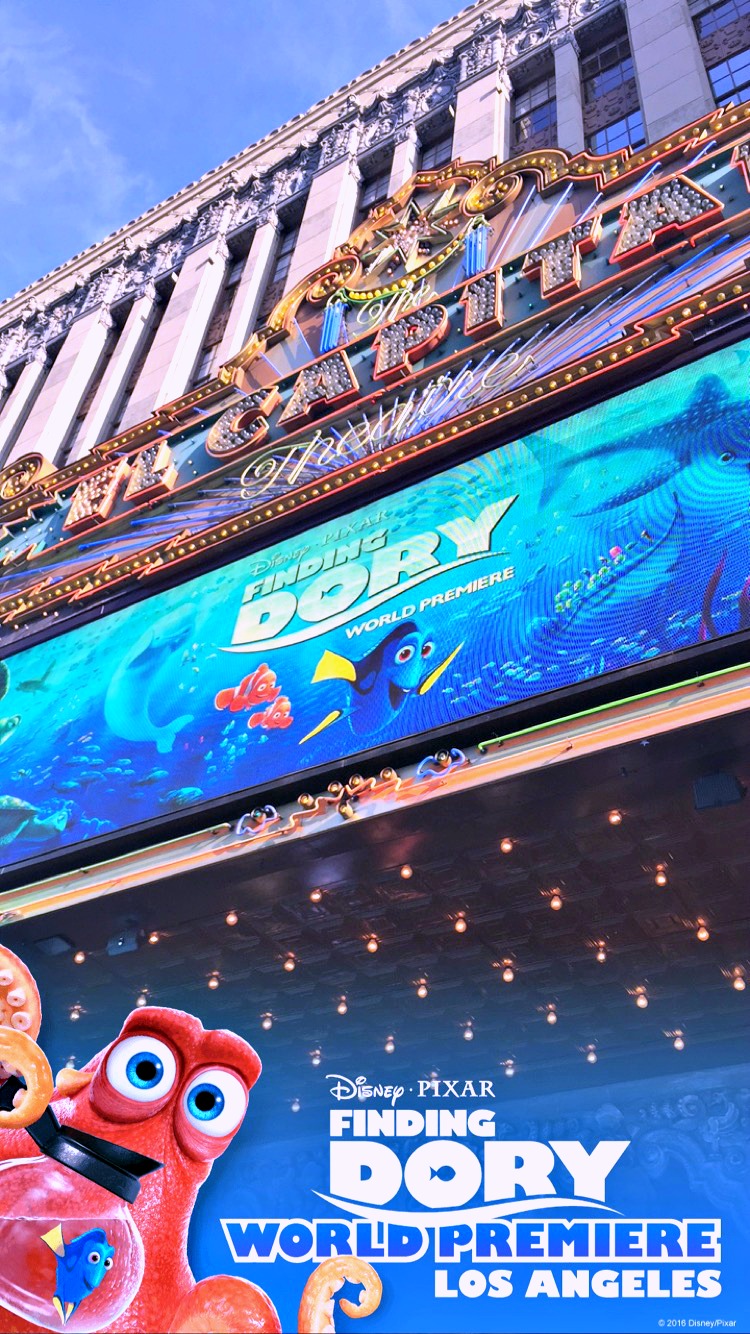 The main event is the movie.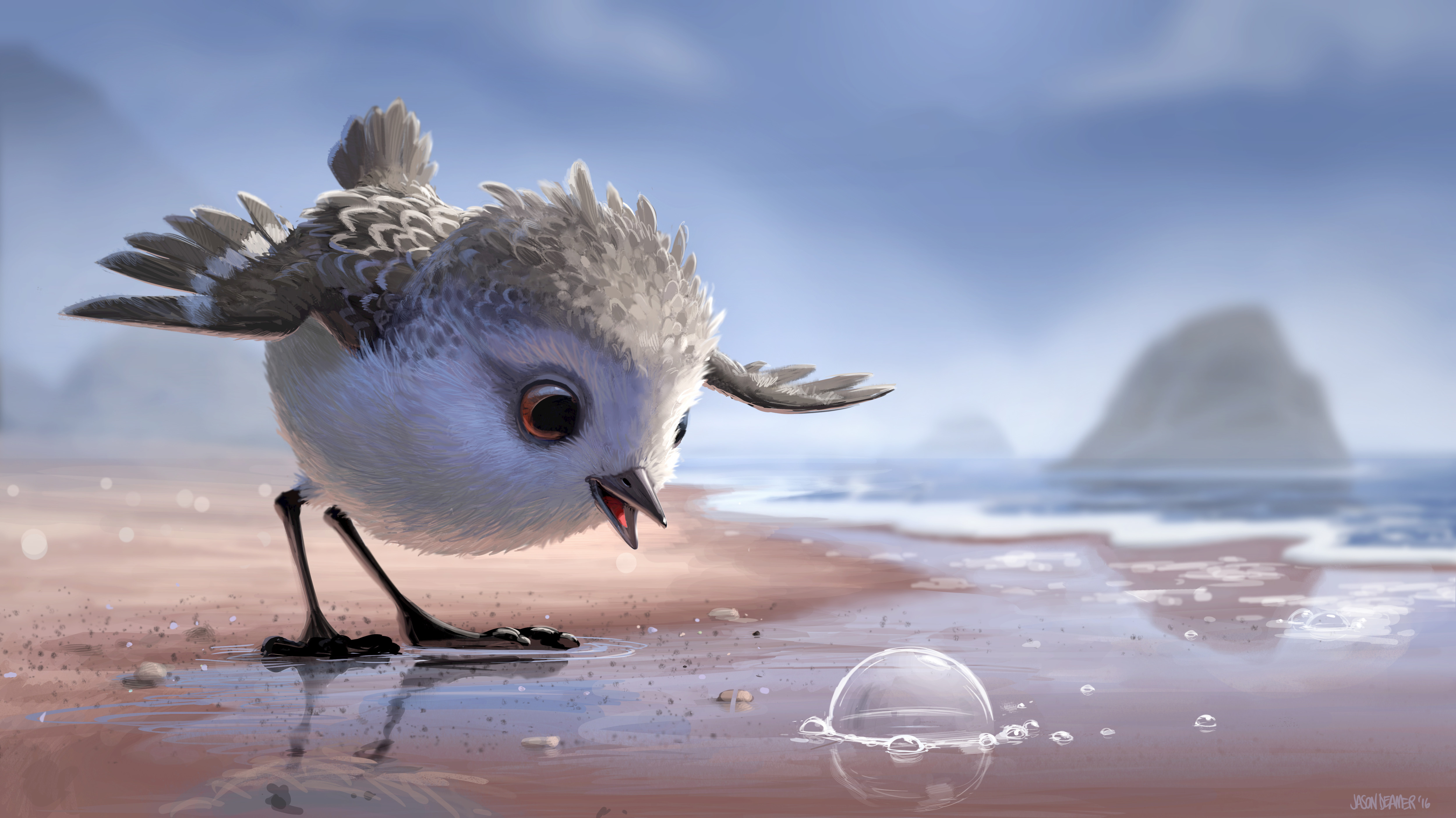 If you're a fan of Pixar you know they start out their movies with a short in front of them. This was no different. The short is Piper and it is beautiful.  Visually the animation is just gorgeous.  The story itself is beautiful too and very personal to the writers and all who made the short possible.
And then it happened – I watched Finding Dory in the same room as Ellen, Ed O'Neill, John Lasseter, and more!  I will tell you – the movie was totally worth waiting for.
While it is a story about looking for something it's a different story than Finding Nemo.  Finding Nemo is about a father who loses his son and his journey to find him.  Dory is on a journey to find her family and where she comes from. In the end she finds out what she can do, how strong she is, and what family really means. The journey is fun and adventurous with a lot of laughs along the way.
They've brought back some of our beloved characters such as Marlin, Nemo, and Mr Ray. They've also added new lovable characters – Hank, Destiny, Baily, Gerald and more.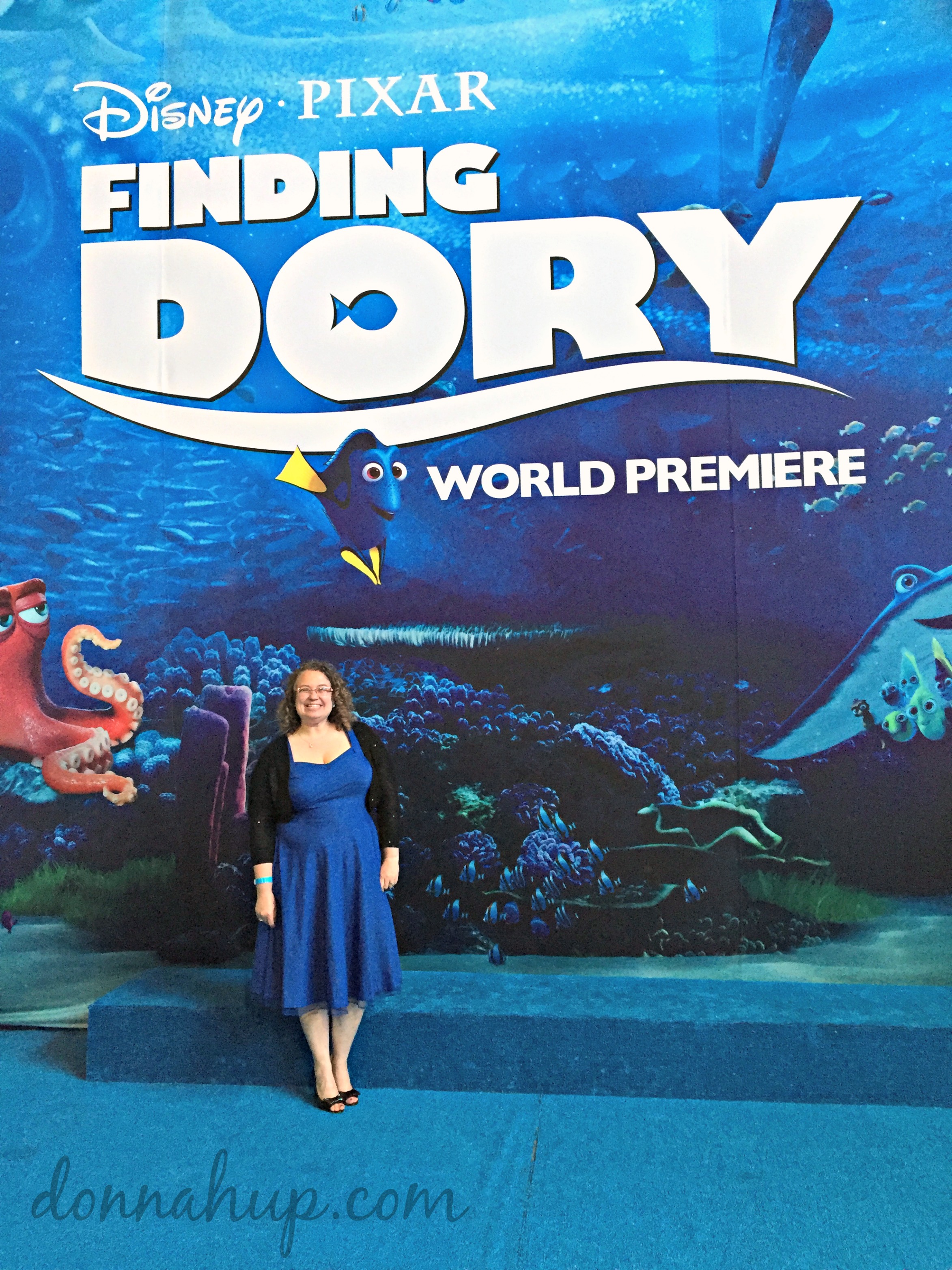 This will have you laughing and crying. It has all the feels and really emphasizes that no matter what comes your way in life "just keep swimming".  This is one the whole family will love.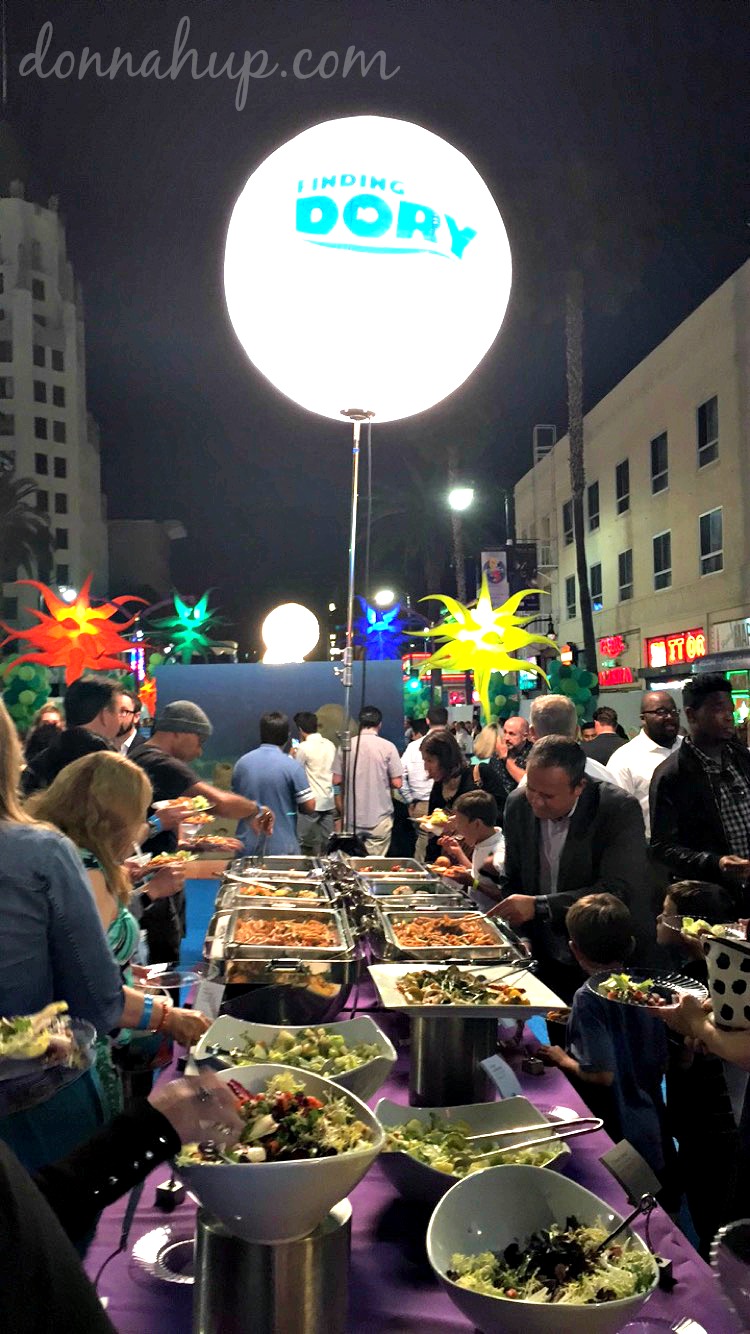 The night did not end after the movie. They had a huge after party right there on Hollywood Blvd.  There was food.
There was live entertainment and even some dancing.
There were also numerous activities like sand art, making shell picture frames, noodle art, and more.
There was even a huge sand sculpture. There were bubbles, bounce houses, air brush tatoos, photo booths, a portable aquarium and more. There was something for everyone.
One of my two favorite moments from the after party involved meeting Sarah Hyland and posing with our Dory Plushes that they were giving away.
The second was meeting Jeff Garlin and him telling me that he loved my voice! So cool!
By the end of the night my feet were killing me from 5 hours in heels, but it was totally worth it and I'd do it again in a heart beat!
Finding Dory will be in theaters everywhere June 17th!
In celebration of the movie we have teamed up with the amazing Alex Woo and we're giving two lucky fans a Finding Dory inspired necklace! All you have to do is enter on the giveaway tool below. Good luck!
*Open to the US only. Giveaway ends 6/27/16 at 11:59pm ET.
The giveaway is open to residents of the US only, ages 18 and up. It will end on 6/27/16 at 11:59 PM EST. Two winners will be randomly selected using the Giveaway Tools random selector and notified via email. Once notified, the winner will have 48 hours to respond or a new winner will be chosen. This giveaway is in no way associated with Facebook, Twitter, Instagram, Pinterest or Google. Void where prohibited.