On the Set of black-ish #blackishABC #ABCTVEvent
I shared with you last week about some of my adventures while in Los Angeles and visiting the Disney Animation Studios. One of those adventures included interviewing the creator of and the amazing kids that star in ABC's new show black-ish. When you pull up to the Studios you see a big board for the show.
I've been watching it since it aired and it's hilarious. I love that it's "real" – real situations that I know have experienced before. It's not a "black show" either, but a show about family. I think it's very relatable. I was so excited to visit the set!
Look! I just entered their front door! It was so cool to be walking around in the Johnsons' house. By the way these stairs stop at the top. The second story is on a different set 🙂
I had to post a few pics of me in the house to show you that I was really there 😉 It's so much fun to see how it works behind the scenes.
Look, there's someone on the front lawn! It was cool to learn that there is a screen they use if the door is open that looks like the outdoors and when they're filming the outdoor scenes there is an actual neighborhood they film at.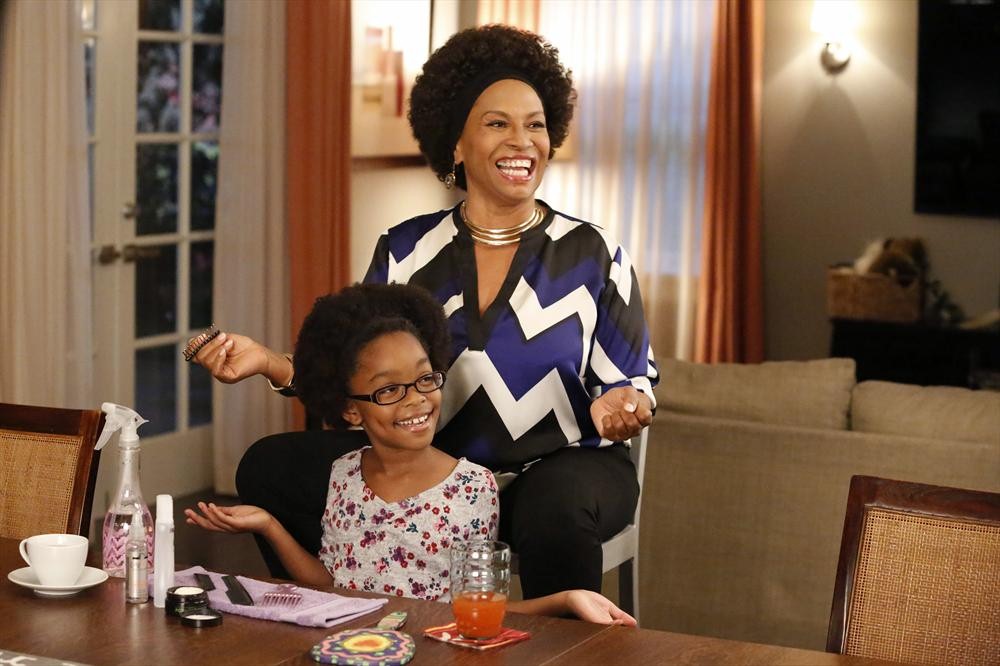 Above is a shot from tonight's upcoming episode "Oedipal Triangle". Look below, does it look familiar?
This is the actual closet on set for Andre Johnson. I have to confess I'm a little jealous of the closet.
The bedroom was pretty spectacular as well.
My favorite bedroom belonged to the twins, Jack & Diane.
It was so much hanging out on the set. Make sure you catch black-ish tonight and every Wednesday night at 9:30|8:30c.
Here's a sneak peak of tonight's episode!
"Oedipal Triangle"- Dre's mother, Ruby, comes for a visit, and she smothers her pork chops with gravy, Dre with love, and would like to flat out smother Bow, who feels the same way about her. Dre tries to find a way to get the two most important women in his life to get along.
About the Show:
Andre 'Dre' Johnson (Anthony Anderson) has a great job, a beautiful wife, Rainbow (Tracee Ellis Ross), four kids and a colonial home in the 'burbs. But has success brought too much assimilation for this black family? With a little help from his dad (Laurence Fishburne), Dre sets out to establish a sense of cultural identity for his family that honors their past while embracing the future.

black-ish stars Anthony Anderson as Dre, Tracee Ellis Ross as Rainbow, Yara Shahidi as Zoey, Marcus Scribner as Andre Jr., Miles Brown as Jack, Marsai Martin as Diane and Laurence Fishburne as Pops.
Connect with them: