Lots of Laughs with the Cast of Cars 3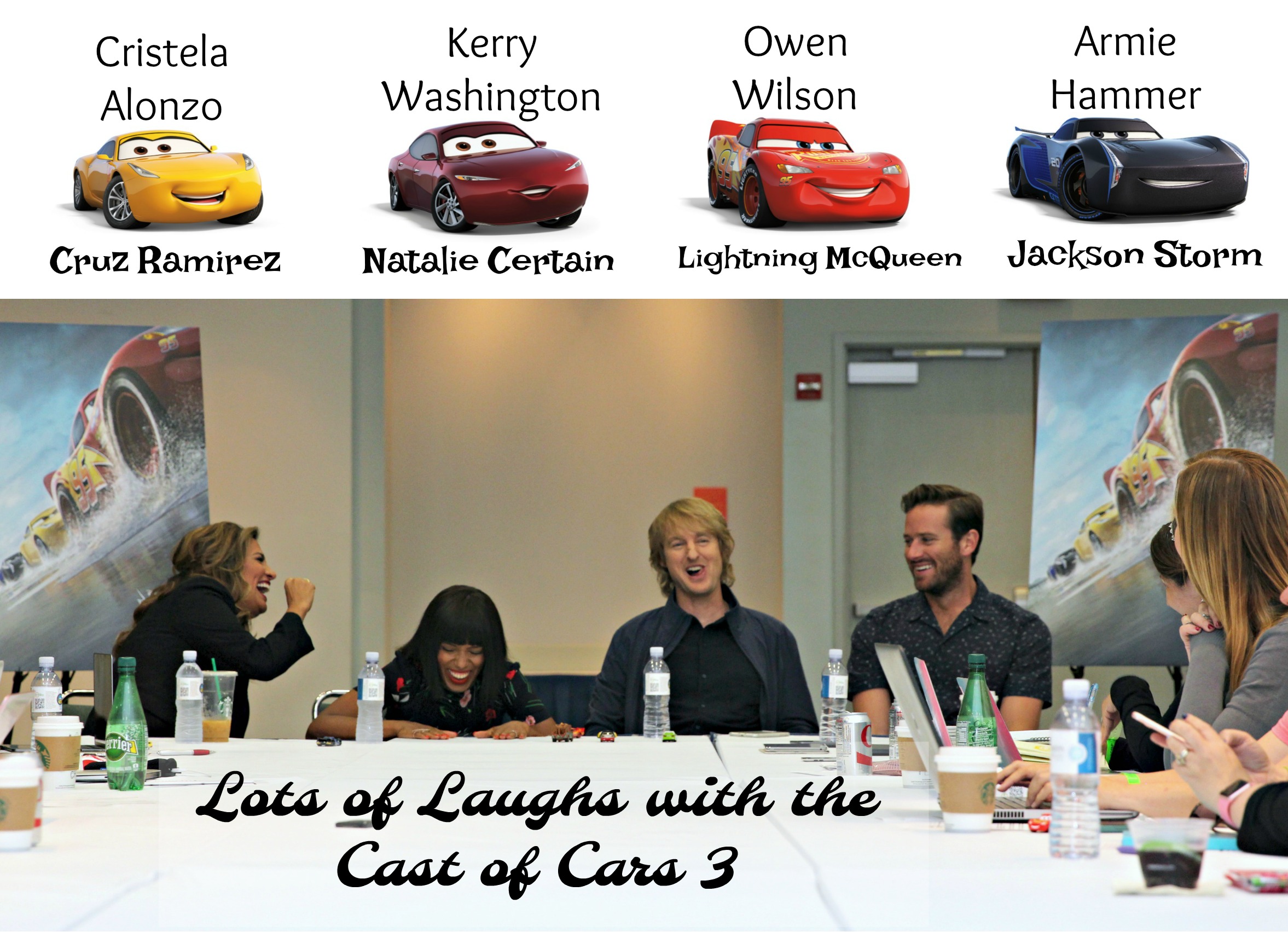 I had the amazing opportunity to sit down with some of the cast from Cars 3 – Cristela Alonzo, Kerry Washington, Owen Wilson, and Armie Hammer.  From start to finish the interview was incredible and one of my favorites by far.  They got along so well and the energy between them was electric. We all laughed so much.
They each shared how they became involved with the movie.
Cristela was on her way to do a stand up tour and got a call from her agent asking if she wanted to go to Pixar. She thought it was random, but said yes and headed their way. They gave her a tour, sat her in an office, and told her about the character of Cruz.  She had no idea she was there for an interview.  Long story short she got the part.
Kerry Washington joked about her call.  "There was a role to play, like a super know it all, bossy pants character, super arrogant. So would I be willing to go way against type?" We all laughed and she shared that she was a Pixar fan for  a long time and was just honored to be a part of it.
Armie shared that he wished he had a really good story. They called him and asked him if he wanted to be in the movie and he said yes. Owen said he could make up a story like he was kidnapped and taken to Pixar and we all laughed even more.
We had interviewed the director and producer before this interview and Armie was described as the nicest guy in the world.  Turns out his character, Jackson Storm, is kind of a jerk.  We asked him how hard it was for him to channel his inner jerk.  He explained his parents taught him to be kind and nice to every one so it was kind of fun to "jerk it up".  He enjoyed doing it in a safe environment where he wasn't actually offending anyone.
When we asked if there were any pieces of his character that he could relate to he quickly answered, "I hope not."
Owen got Kerry to tell a story about her daughter. Kerry explained that in her house they talk a lot about  owning your voice and having a voice.  We all know kids are often very literal so when she took her daughter to see the movie and she heard her mom's voice she said "That's weird. She should have her own voice." It was fun to see her light up as she shared about her daughter and how her fellow cast members listened and oohed and awed even though they'd heard the story before.
We asked Owen how he felt about being a role model for drivers and young racers. He told us "it's nice to be a part of a movie that seems to have meant a lot to people – particularly racers, 'cause everybody at Daytona 500 seems to like cars"
"That's the kind of message you get when Owen is your mentor. It turns out people at NASCAR like cars." Cristela retorted.
It was so much fun to hear them go back and forth and there were times I wasn't sure if they were laughing harder or we were.
There was a lot of laughing, but we were able to go deep as well when we talked about what they wanted their take aways to be when fans watched the movie.
Cristela shared, "You just have to be the best and try hard, and that's the best take away from this story."
Kerry shared what she learned from her character of Natalie Certain. It made her think a lot about how we seem to live in a disposable society. Natalie Certain is so sure that Storm is going to win because of the numbers. Storm is the hot, new thing so that's the way to go. Often in the world today as a society we tend to prioritize hot and new rather than what is wise and creative. "As a society, we need to be careful about that."
I'd totally agree with both Cristela and Kerry.  Cars 3 is filled with not only these messages, but others. It truly is a movie for all.
Cars 3 is in theaters everywhere! You don't want to miss it!
Like CARS on Facebook: https://www.facebook.com/PixarCars/
Follow CARS 3 on Twitter: https://twitter.com/pixarcars
Follow CARS 3 on Instagram: https://www.instagram.com/pixarcars/
Subscribe to the Disney/Pixar YouTube channel here: https://www.youtube.com/user/DisneyPixar
Visit the official CARS 3 website here: http://movies.disney.com/cars-3
CARS 3 opens in theatres everywhere on June 16th!