Lightseekers Review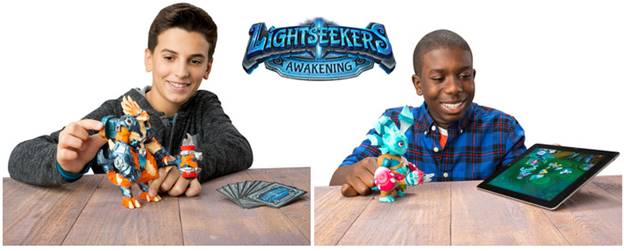 Get ready for the smartest toys and a connected play experience like you've never seen before! Introducing Lightseekers by TOMY, an action adventure role playing game built for mobile devices that fuses together fantasy and reality, integrating video games and smart action figures with the latest in artificial intelligence, augmented reality, interactive trading cards and more.
What makes Lightseekers better/different than anything else you've ever seen?
Technology – The smart action figures have real play value and the game features AR, VR, and more. You and the player can use the figure as the actual controller.
Platform – As Lightseekers is built for mobile devices, the figures interact with each other and your device via bluetooth AND we have the unique ability to enhance the game play based on user feedback, real time reviews and more.
Lightseekers is so much more – The interactive trading cards add another level of game play as the features come to life in the game.
Lightseekers is the most interactive, smart app around! Very easy to learn the controls on the device. Logan loves to play games on his tablet, but mostly he controls all play and movement by touch screen. I love that the Lightseekers is an actual controller that you can hold and manipulate to make your character on the screen respond and come to life! If you want to fly, you have to make the character fly for real, same with jumping and attacking. He really couldn't put it down. As a parent I love that they are able to take several steps back from the actual screen, I think its way better for their eyes. Adds a bit of imagination and activity to the normal tablet play time.
Lightseekers is available at Toys R Us and Amazon.