Different Kinds of Trailers #TruckerTuesday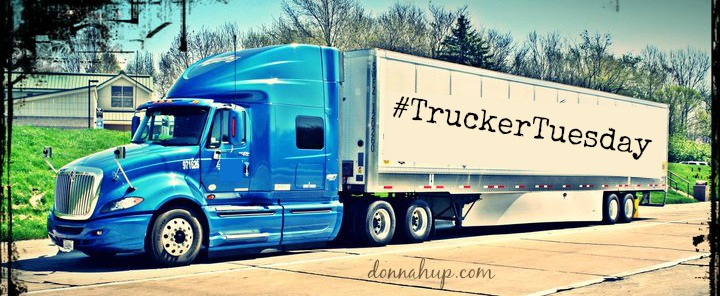 When I tell people that I used to drive a semi truck they would ask me if I did OTR. OTR stands for over the road. It means I didn't have a set route or local route. I could pick up in New York and be in Oregon the next week and back. I went all over the US and that's what I loved doing. Now that we've settled in a town I love the local route is more my speed. I still love traveling, but I like having a house.
Another question is what did I pull. I pulled a van. I thought I'd show you some of the different types of trailers this week.
Dry Van –  This is your standard trailer. Anything that can fit in the trailer we carry in it. When carrying paper supplies (like rolls of paper) we have to make sure there's no leaks. To do that you shut yourself inside the trailer on a sunny day and see if light shines in anywhere.
Doubles and Triples – This is when you string together more than one van trailer. Two trailers is a double and three is a triple. Usually these trailers are "pups" and are shorter than your standard van trailer. We also call them wiggle wagons on the CB.
Reefer – This is basically a refrigerated van.  If you want to haul frozen foods or items that must remain cold this is your choice.
Grain Hauler – It's harvest season here in Iowa so we see a lot of these. They have an open top so the grain elevators can dump the grain in the trailer. These are also known as covered wagons.
Tanker – Tankers are used for hauling liquids.  While they can haul gasoline they carry other liquids as well including water.
Livestock Hauler – These are used for hauling livestock like cows, pigs, etc.  These drivers have to pay attention to their loads as the animals can actually shift because they don't sit still. When a trailer sits this low to the ground we call them low boys. They have to watch they don't get caught on rail road tracks.
Flatbeds – They're like vans with out their tops and you strap your freight down.
Oversized – This was the first pic I found. I've never actually seen this set up driving, but it's not impossible. You'd definitely have to have good communication.
Oversized – These are usually flatbeds and they take, you guessed it, oversized loads.  Instead of getting frustrated when following behind them give them space.
Any questions about any other trucks?
Safe travels!