*I received a complimentary zip lining experience at Branson Zipline in Branson, MO to facilitate my review. All thoughts are 100% honest and my own.
Branson Zipline Branson, MO #Explore Branson
Conveniently located  in the heart of the Ozark Mountains, just minutes north of Branson, Wolfe Creek Preserve is home to one of the premier Eco-Adventure experiences in the world: Branson Zipline & Canopy Tours.
One of my very favorite things that we did while we were on vacation was the Branson Zipline!  I got to go with some of my awesome blogging buddies pictured above (bottom to top). Quinn & Betsy from The Dallas Socials,  me, Ericka from Ericka Saves, and Natasha & Shomari from Houseful of Nicholes.  All pictures were taken by Branson Zipline & Canopy Tours staff.
It started out with a ride up the mountain so we could ride the zip lines down!
Can you tell we're ready?!  The staff does an awesome job at explaining things and we were never ever not attached to the line. They took all safety precautions.  Our guides, Steven & Tawny were awesome! Tawny shared stories and history about the area we were zipping through and even why some of the towers had the names they did. Steven patiently waited at the other end for each of us and took most of the pictures.
Here we are with our fearless guide, Tawny.  They made the experience so much fun! We had one girl who was a little nervous. (Don't worry, Natasha, I won't tell them who it was)  They did great with her and really helped her relax and enjoy the experience.  You can read Natasha's review here.
We stopped to take a mid mountain snack. They served us bird seed and almond brittle. This sounds funny, but they're the most delicious snacks!
I had so much fun that I went again! My hubby wasn't able to be there the first time so this time just he and I went. We had so much fun. Here are some of our pics going down the zip line.
Since we went again with a different group I got to experience two new guides!
Ryan and Declan were awesome too! This picture was taken after we completed all 7 zip lines and 10 suspension bridges!  After this Myles and I decided to  do the Blue Streak Fast Line!
Find yourself soaring at heights of over 150-feet, taking in panoramic views of the surrounding Ozark hills, and zipping at speeds fast enough to feel the wind in your hair.You will zip  nearly a quarter of a mile on our longest & fastest line followed by a freefall drop from Everest,  our tallest platform.
Of course because this was another course we had two more guides! Megan and Hunter were also fantastic!  The drop was so exhilarating. You don't feel the harness catch (you are fully attached and harnessed in the whole time) the first 30 feet of the free fall.  It takes your breath away!  I absolutely loved it!!
Here are pics of both my hubby and I after our jump!
They also offer a safari guided walking tour!  Check out this video from their staff and find out why they're so #Happy
Connect with them: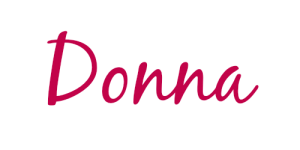 donnahup.com receives free products for review purposes, and may sometimes be compensated for posts. All opinions expressed are solely from donnahup.com. See donnahup.com's Disclosure Policy for complete details. My opinions are my own and were not influenced by any form of compensation. This disclosure is done in accordance with the Federal Trade Commission 10 CFR, Part 255 Guides Concerning the Use of Endorsements and Testimonials in Advertising.