Bacon Wrapped Salmon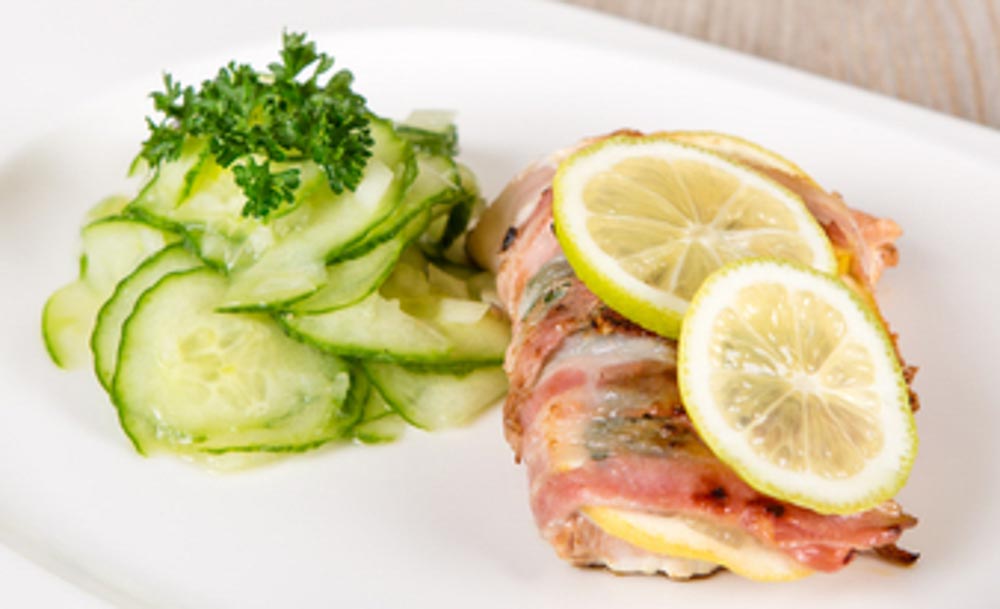 Bacon Wrapped Salmon
Ingredients:
2 pieces of 5oz salmon
Whole lemons
6 slices Apple wood Bacon or you can use Turkey Bacon
2 teaspoons of honey
Directions:
1. Turn Grill on High let heat for 5 minutes.
2. Set bacon slices on a plate (make sure they are touching each other) place salmon on bacon. Add a teaspoon of honey on the top of the salmon. Then place a lemon wheel (slice) on top of salmon.
3. Wrap salmon tightly in the bacon adding tooth picks to hold it in place. (you are going to want to soak tooth picks in water for 5 to 10 minutes so that they don't catch on fire)
4. Place Salmon on grill for 6 minutes (for thick pieces you may want to grill for longer)
5. For side you will want to slice cucumbers very thin (paper thin) I toss them in an Asian vinaigrette (check to make sure it is gluten free)
Serve salmon wraps and cucumber salad. What a great way to kick off a spring meal.
Find all our Gluten Free Recipes here