8 Ways to Clean with Lemons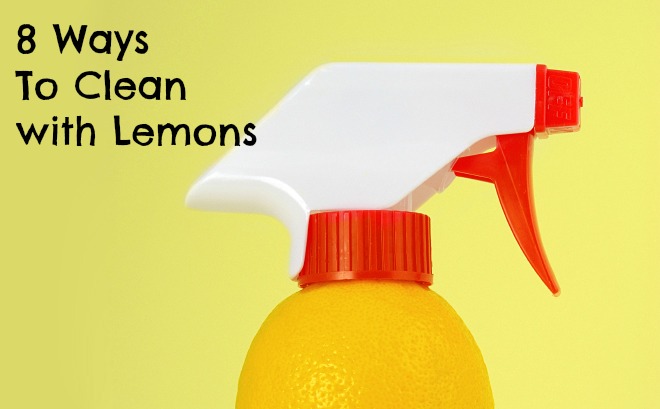 I love the smell of lemons and I just learned you can do quite a bit of cleaning with these amazing little fruits that are very easy to obtain. Check out some of the ways you can clean with lemons.
Shower doors: I feel like every week even with just two of us the soap scum builds on our shower door. Here's a handy tip, just apply lemon juice to a sponge and wipe down the shower door.  It takes care of all of that soap scum.
Cutting boards: I chop raw chicken on my cutting boards so I really want to make sure they are clean.  You can clean your cutting board with lemon. Just cut a lemon in half and rub it across the board. Make sure to saturate the board the juice. Allow it to sit for about 20 minutes, rinse, and dry.
Polish faucets: This is one of my favorites. I can't stand the spots on my faucets.  Just rub a lemon on your faucet to remove soap scum, lime scale and mineral deposits. Yes, it's just that easy!
Laundry: My husband loves his shirts to be bright white and I just don't like using bleach. A cup of lemon juice added to your laundry along with your regular detergent will boost the whitening action. If you have really tough stains on your whites, put lemon juice directly onto the stain and allow it to dry in the sun – your stain will disappear!
Counter tops: Just dilute some lemon juice in water. I find it easiest to use in a spray bottle.  Spray down your counter tips then wipe off with a clean cloth.
Toilet Cleaner: Want your toilet bowl clean and fresh?  Just drop half of a lemon in the bowl and use a toilet brush to swish it around. It also leaves it smelling fresh.  Just don't flush the lemon.
Mirror Cleaner:  Lemon can even be used to clean mirrors, windows, and glasses! Just make a solution of tablespoon of lemon and one cup of water. You can put the solution in a spray.
Microwave Cleaner: Did you know you can clean your microwave with lemons too? Place a couple tablespoons of lemon juice in about 3/4 cup of water and pop it into the microwave. Heat the mixture to boiling. Don't open the door for another 10 minutes. Then you can just wipe away food particles with a clean cloth!
Do you have any other uses for lemons?