5 Exciting Things to Look Forward to at Disney Parks & Resorts
If you have read my blog for any amount of time you know that I love Disney. That includes the parks, resorts, movies, and more! I was ecstatic that I was able to attend the D23 Expo with the world's greatest fans!  There were amazing exhibits, gift shops and panels. One of the panels was on their Parks & Resorts.  There is so much Disney Magic in the works and I'm super excited to share it with you!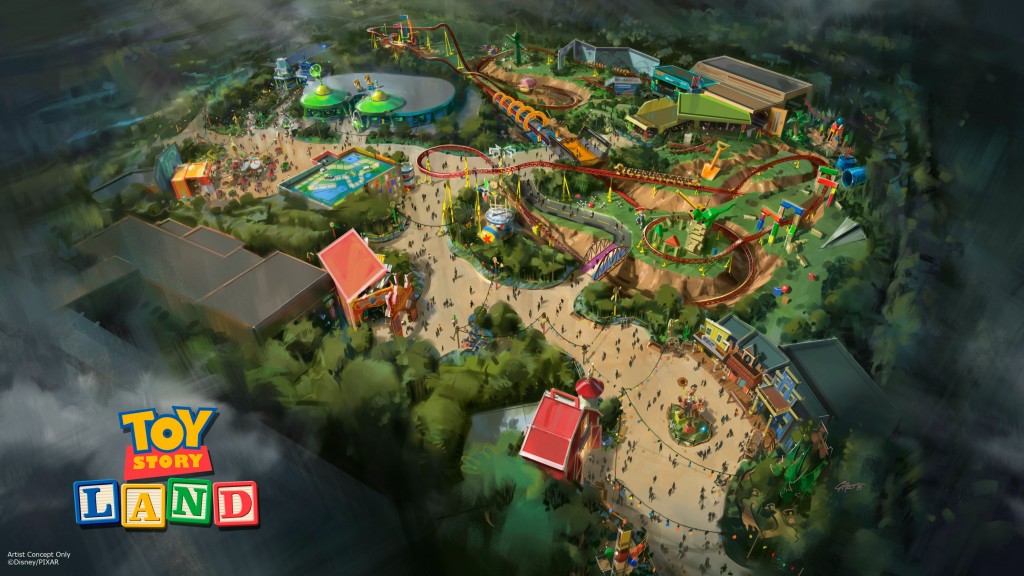 1. Toy Story Land is coming to Disney's Hollywood Studios in Florida
Imagine being the size of the toys in Toy Story and going on adventures with them in Andy's bedroom or what about riding Slinky Dog over a track that Andy constructed? You'll be able to do all that and more.
The reimagining of Disney's Hollywood Studios will take guests to infinity and beyond, allowing them to step into the worlds of their favorite films, starting with Toy Story Land.  This new 11-acre land will transport guests into the adventurous outdoors of Andy's backyard.  Guests will think they've been shrunk to the size of Woody and Buzz as they are surrounded by oversized toys that Andy has assembled using his vivid imagination.  Using toys like building blocks, plastic buckets and shovels, and game board pieces, Andy has designed the perfect setting for this land, which will include two new attractions for any Disney park and one expanded favorite.
Family-friendly roller coaster – All on the back of Slinky Dog, this coaster will zip and zoom, plunge and coast as it takes guests on a fun, toy-filled adventure throughout the new land.
Alien saucers attraction – The famous little green aliens from the movie will take guests around for a spin in their very own flying saucers.  The music, lighting and sound effects add to the flurry of action, while "The Claw" looms over.
Toy Story Mania! – Guests glide into the Toy Story Midway Games Play Set  and take aim at 3D objects in a variety of fast-paced games, with an expansion that adds a third track to this popular attraction.
2. Pandora, The World of AVATAR comes to Disney's Animal Kingdom
I'm so fascinated by the bioluminescence in Pandora. Could you imagine actually visiting a place like that?  Once the World of Avatar is completed we will be able to!
As part of the largest expansion in the park's history, Disney's Animal Kingdom will immerse guests into the world of Pandora, and the entire park will transform after dark with new nighttime entertainment experiences, offering guests longer days than ever before to experience this one-of-a-kind theme park.
"Rivers of Light" – Expected to open next spring, "Rivers of Light" will be an innovative experience unlike anything ever seen in a Disney park, combining live music, floating lanterns, water screens and swirling animal imagery. "Rivers of Light" will magically come to life on the natural stage of Discovery River, delighting guests and truly capping off a full day of adventures at Disney's Animal Kingdom.
Kilimanjaro Safaris – This popular attraction will be extended for a new nighttime adventure next spring, where guests will travel through the African savanna amid the magically extended orange glow of the setting sun and discover two species new to the attraction: African wild dogs and hyenas.
Pandora – The World of AVATAR – Disney's Animal Kingdom guests will journey into the magnificent world of Pandora at this new AVATAR-themed land – a world that includes floating mountains, a bioluminescent forest and the winged creatures known as Banshees, giving guests a transformational experience they will never forget.
AVATAR Flight of Passage – This E-ticket attraction, the centerpiece of Pandora, allows guests to soar on a Banshee over a vast alien world. The spectacular flying experience will give guests a birds-eye view of the beauty and grandeur of the world of Pandora on an aerial rite of passage.
3. Soarin' Around the World in Florida and California
Next year, guests at Epcot in Florida and Disney California Adventure in California will journey to far-flung lands and fly above some of the world's most unique natural landscapes and man-made wonders when the new Soarin' Around the World makes its U.S. debut.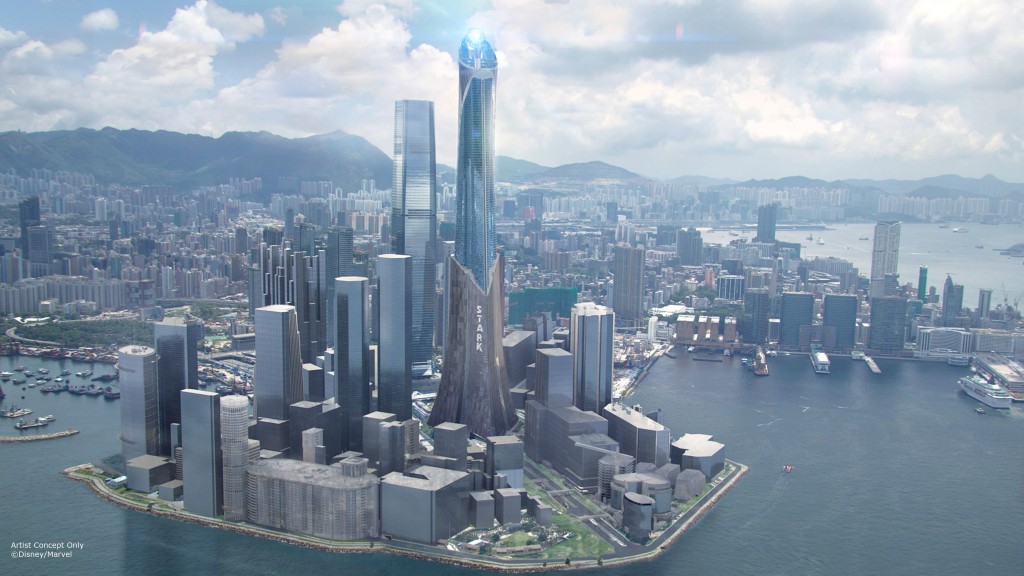 4. Iron Man Unveiled for Hong Kong Disneyland
This had to be one of my favorite announcements due to the way they announced it.  They kept teasing us that Iron Man was on his way. After all the special surprises over the weekend I was thinking Robert Downey Jr was going to show up. While he did not, they did something even cooler. They said they had a giveaway and the prize was a trip to the Avengers Headquarters.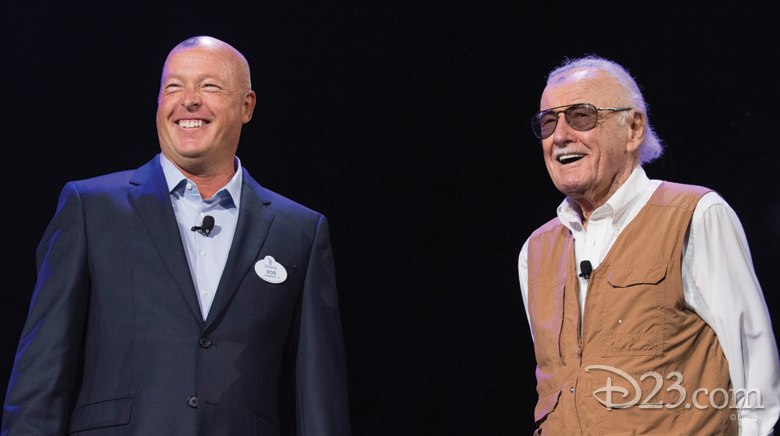 I'm sure you recognize the winner, Mr Stan Lee.  They joked around asking him his name and mispronouncing it as Stanley.  When they asked him what he did for a living he quickly came back with "Don't you know who I am? I'm the world's greatest cameo actor." The crowd went crazy.  Iron Man (the character) finally showed up and they went into detail about the Hong Kong announcement.
Set to open in 2016, Iron Man Experience will be the first Marvel attraction at any Disney park, taking guests on an epic adventure over the streets and in the sky above Hong Kong.  The adventure will begin at the new Stark Expo where guests board the Iron Wing to take flight and battle Hydra alongside fan-favorite Avenger, Iron Man.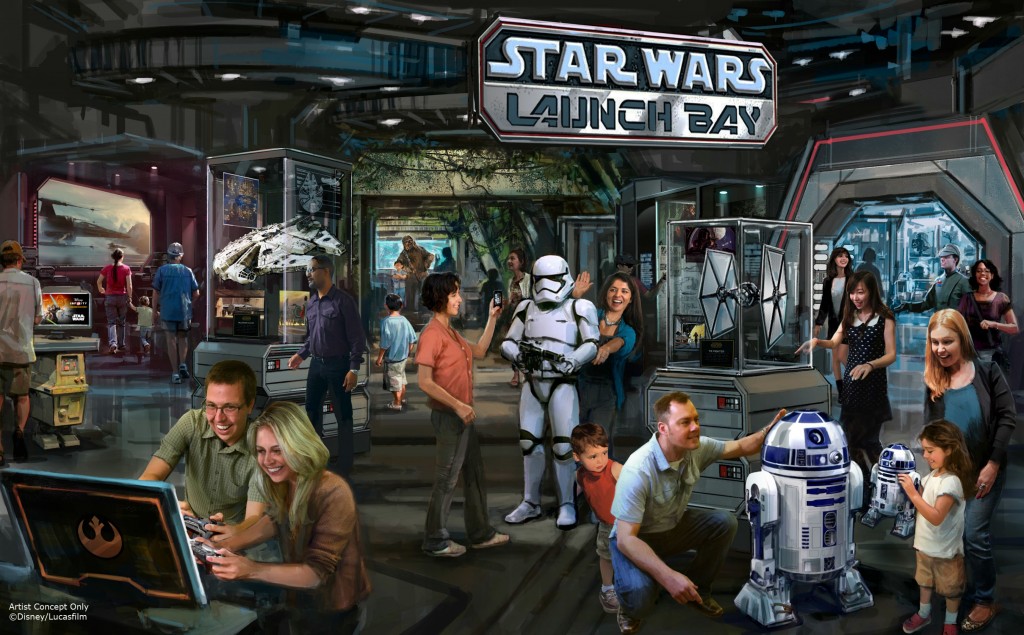 5. Star Wars 
This was probably the most exciting news by the way the crowd cheered and clapped.  The most exciting of the Star Wars news was the new Star Wars themed land.
From a new Star Tours adventure to Star Wars Launch Bay, from a new Jedi Training Academy to "Season of the Force," soon guests will be part of both new and enhanced experiences at Walt Disney World Resort and Disneyland Resort.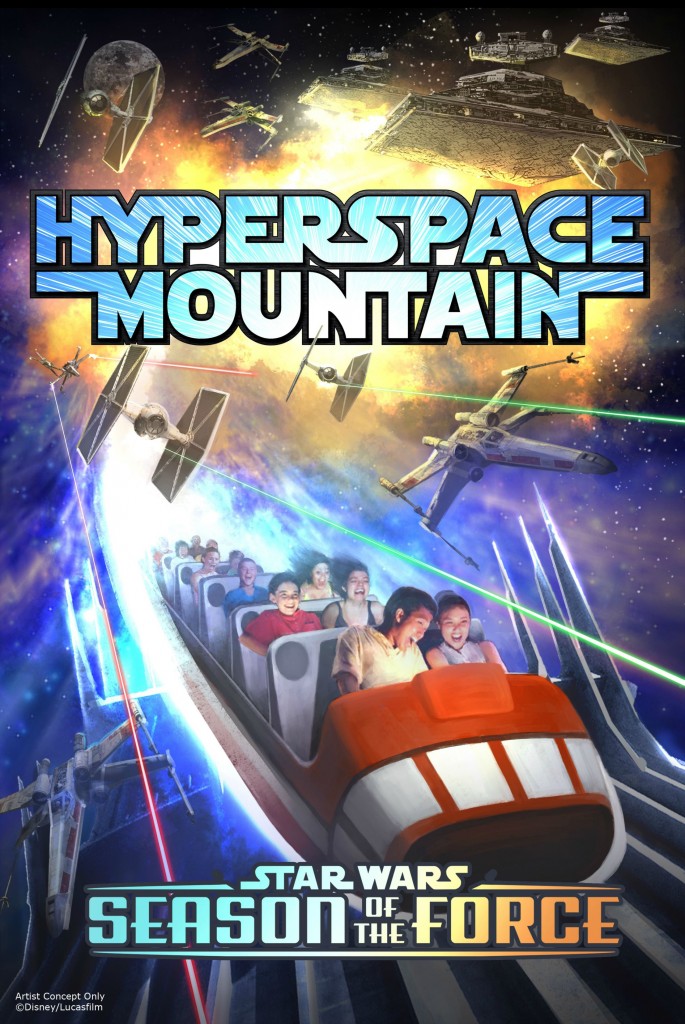 Star Tours – The Adventures Continue – Later this year, Star Tours will include a new adventure featuring locations and characters from the upcoming film, Star Wars: The Force Awakens, giving guests a new adventure in the Star Wars galaxy.
Star Wars Launch Bay – This interactive experience will take guests into the upcoming film, Star Wars: The Force Awakens, with special exhibits and peeks behind-the-scenes, including opportunities to visit with new and favorite Star Wars characters, special merchandise and food offerings.  Star Wars Launch Bay will be located in the Animation Courtyard at Disney's Hollywood Studios and in Tomorrowland at Disneyland park.  Also atDisneyland park, Star Wars Launch Bay will share the space with the reimagined Super Hero HQ, featuring opportunities to meet and take photos with super heroes like Captain America and Thor, as well as experience the returning Iron Man Tech Presented by Stark Industries.  Both experiences will be available for guests later this year. 
 Jedi Training Academy — A favorite of younger fans is reimagined with a new experience that includes new characters and a new villain to battle from the popular Disney XD series "Star Wars Rebels."
 Season of the Force – This new seasonal event, beginning early 2016, brings new experiences to both coasts.  In Tomorrowland at Disneyland park, guests will explore the Star Wars galaxy with special entertainment throughout the land, themed food locations and more. Guests also will be thrilled to climb aboard Hyperspace Mountain, a reimagining of the classic Space Mountain attraction, in which guests will join an X-wing Starfighter battle. At Disney's Hollywood Studios, guests will close out weekend nights with a new fireworks spectacular set to the iconic score of the Star Wars movies.
What are you most excited about?