*I received a complimentary pass to tour the Winchester Mystery House to facilitate my review. All thoughts are 100% honest and my own. 
Visiting the Winchester Mystery House in San Jose, CA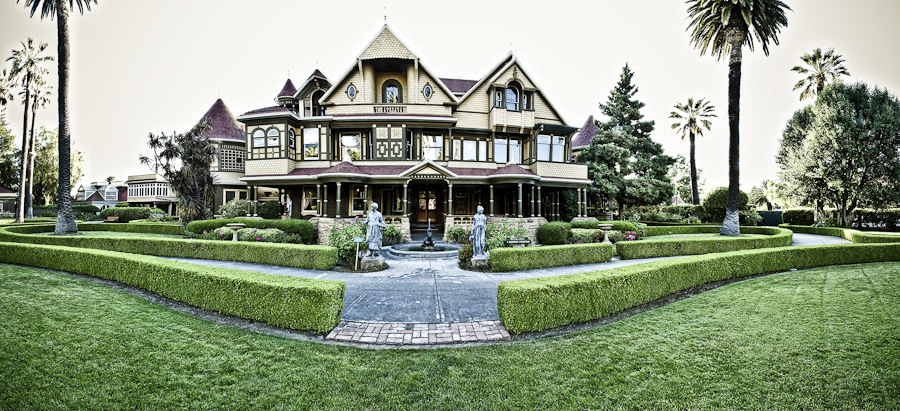 Thinking of visiting the Winchester Mystery House in San Jose, CA? You totally should!
Winchester Mystery House™ is an extravagant maze of Victorian craftsmanship – marvelous, baffling, and eerily eccentric, to say the least. Tour guides must warn people not to stray from the group or they could be lost for hours! Countless questions come to mind as you wander through the mansion – such as, what was Mrs. Winchester thinking when she had a staircase built that descends seven steps and then rises eleven? 
Just a few weeks ago I had the opportunity to go to San Jose, CA.  I met two of my wonderful blogging buddies, Tina from BabyCostcutters and Michelle from Powered by Mom.  We were sharing a hotel together and going to attend a blogging conference but wanted to check out the sites in San Jose before so we arrived a day early.  We had the opportunity to check out the Winchester Mystery House.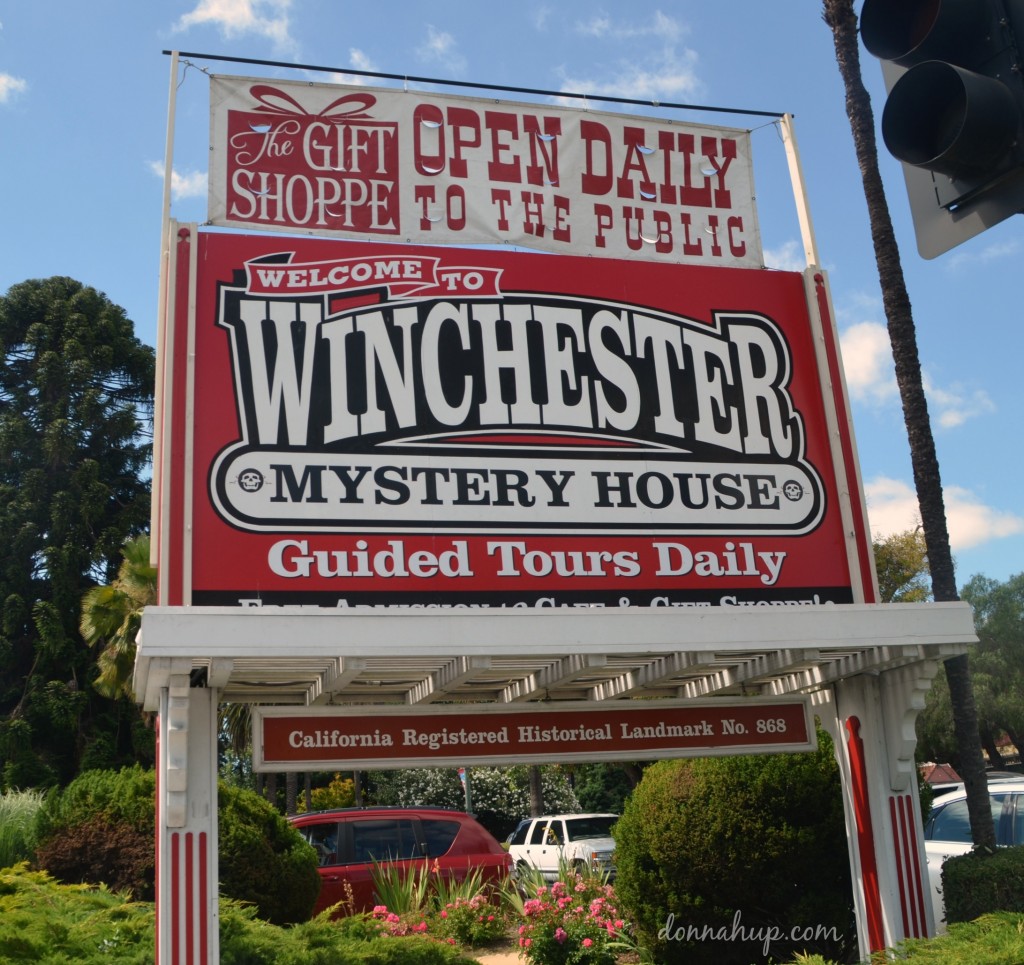 I'll be honest, I had no clue what this house was or who Sarah Winchester (the owner) was before we arrived.  I had mentioned we were going to a few friends and on Facebook and there was quite a bit of positive response along with many of my friends letting me know they wanted to go too.  Needless to say, my interest had been piqued.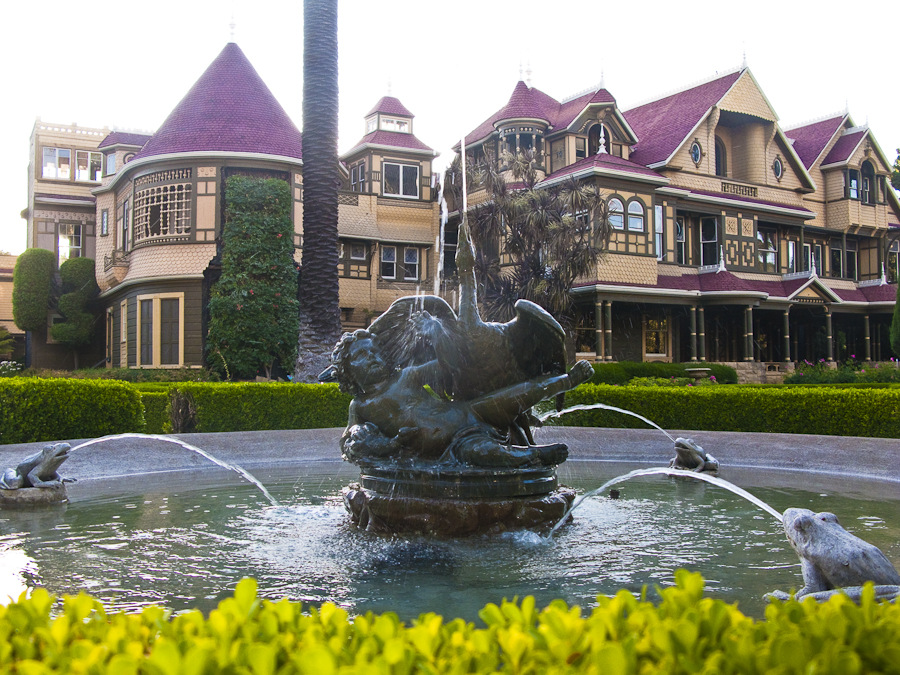 The first thing that fascinated me was the story behind the house.  Sarah Winchester married into the Winchester family, the Winchester Rifle family.  While that may have been common knowledge I had no clue.  She lost her infant daughter due to illness and 15 years later her husband passed away.  It was said she was highly distressed (I can not imagine the grief!) so she sought out help from a medium.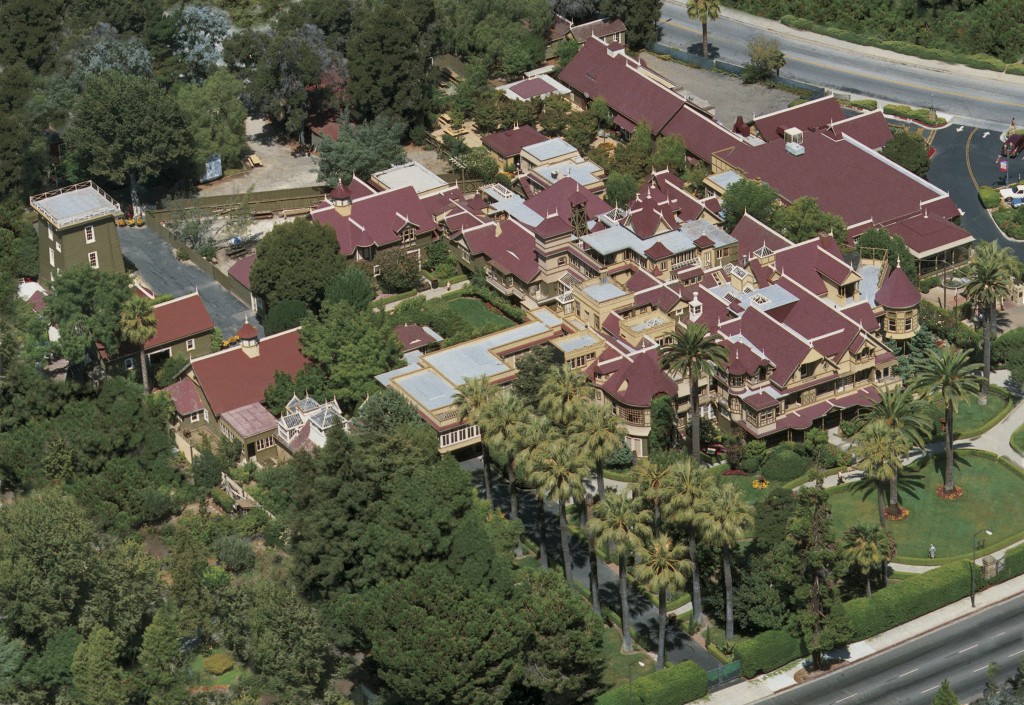 This "spiritual medium" told her that the spirits of American Indians, Civil War soldiers, and others killed by Winchester rifles were haunting her and had caused the death of both her daughter and husband.  She also warned Mrs Winchester that she would be the next victim unless she appeased these spirits by building them a great house.  As long as construction of the house never ceased, Mrs. Winchester could rest assured that her life was not in danger. Building such a house was even supposed to bring her eternal life. On a more practical note, maybe a change of scenery and a never-ending hobby were just what Mrs. Winchester needed to distract her from her grief.
The house itself is massive and absolutely beautiful! It's what's inside the house that gives it the name "mystery house".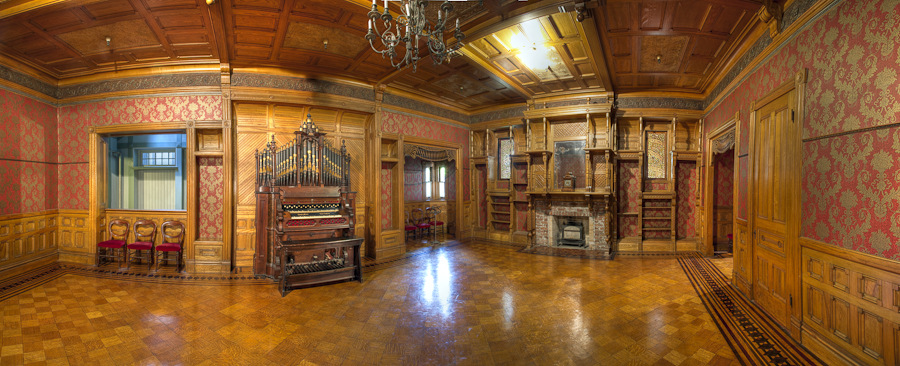 Looking at the outside and even the grand ballroom above you might think it's just a gorgeous Victorian mansion.  That, my friend, would be an inaccurate assumption.  Let me list for you a few of the houses features:
• Door onto the wall in Carriage Entrance Hall (yes, behind the door is a wall)
• Staircase to the ceiling before the 25K Storeroom
• Room with no floor or ceiling between Mrs. Winchester's bedroom & Séance Room
• Window in floor in South Conservatory
• Window onto elevator shaft next to the Most Expensive Window
• Door to wall before Crystal Bedroom
• Door to wall in Daisy Bedroom
• Chimney which stops a foot from the ceiling on the fourth floor
• Stairs to nowhere in Hall of Fires
• Stairs to nowhere on third floor
• Door to eight foot drop in Séance Room
• Door to fifteen foot drop at the front of the house
• Door to drop on third floor
• Room with no door behind North Conservatory
• Cupboard with one-half inch of storage space
• Cupboard to nothing on first floor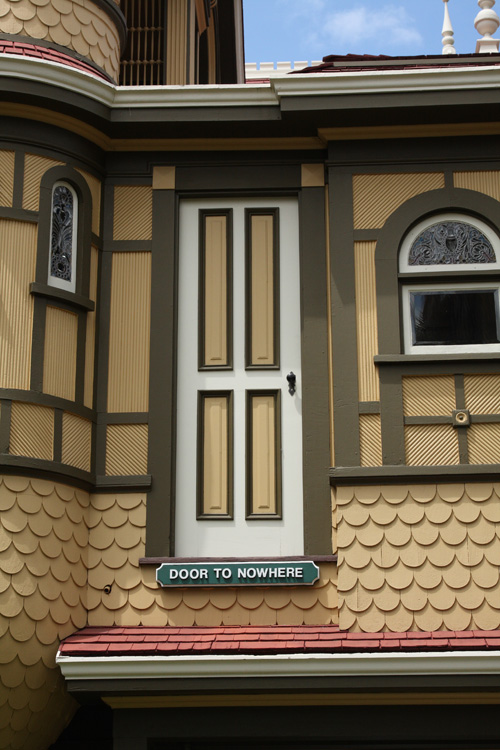 The list is truly as bizarre as it sounds.  The picture above is of the "Door to Nowhere" on the second floor.  She also had an obsession with the #13.
• 13 blue and amber stones in the spider web window designed by Mrs. Winchester
• 13 bathrooms
• 13 windows in the 13th bathroom
• 13 easy risers into the 13th bathroom
• 13 hooks in the Séance Room
• 13 overflow drain holes in the Italian sink in the Hall of Fires
• 13 balusters in the railing by the window in the floor in the South Conservatory
• 2 sets of 13 easy risers going up to the 4th floor
• 13 ceiling panels in the Guest Reception Hall
• 13 ceiling panels in the Entrance Hallway
• 13 sub-panels in the Grand Ballroom ceiling panels
• 13 glass cupolas in the Greenhouse
• 13 holes in the post-1906 kitchen sink drain hole cover
• 13 gas jets on the Ballroom chandelier
• 13 panes of glass in the windows at the end of the Carriage Entrance Hall
• 13 parts to Sarah Winchester's will (with her signature appearing 13 times)
• 13 stones in the Oriental Bedroom windows
• 13 bricks (going down) on the fireplace in the Unfinished Twin Dining Room
• 13 sections of wood in the repeating chevron pattern around Ballroom floor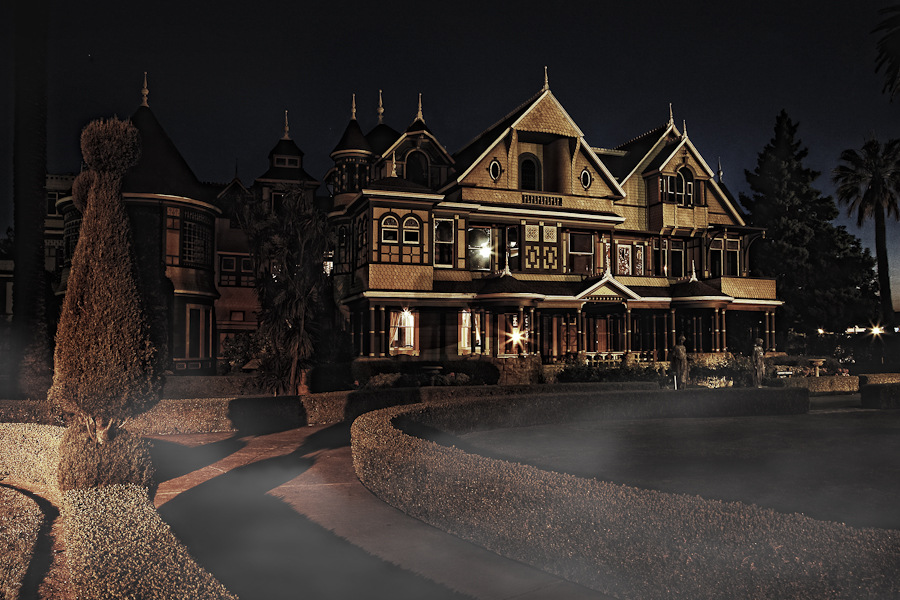 Construction began on the house in 1884 and went on 24 hours a day for 38 years until 1922.  In 1922, Mrs Winchester passed away and only then did construction cease.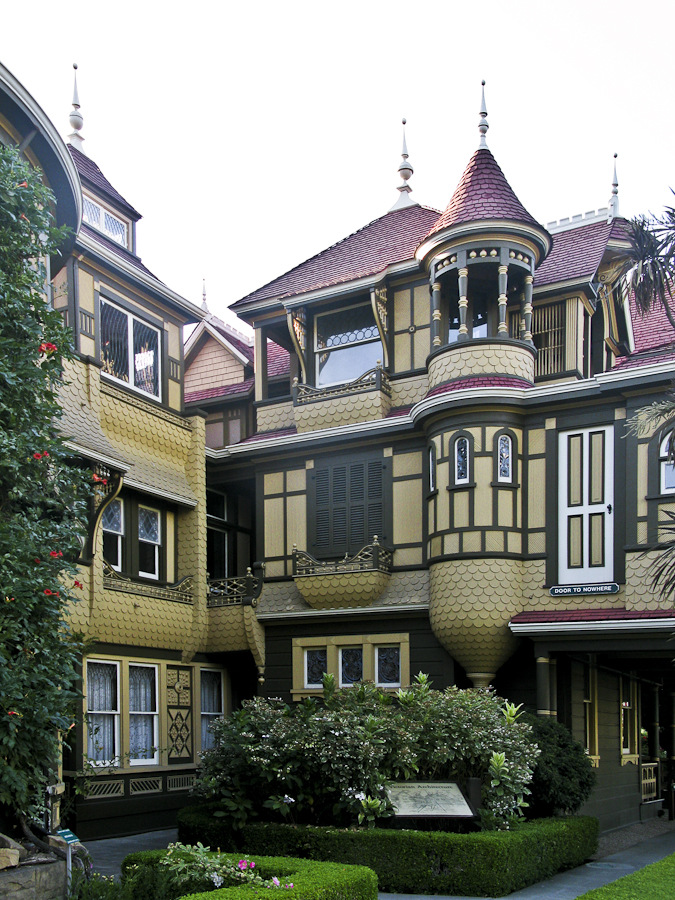 There are different theories as to why she created such a house. My personal opinion is she was so sad and distressed. If she truly believed spirits took the lives of her child and spouse and were now coming for her she was probably terrified.  One theory said she built doors into walls and windows in the floor to confuse and trap the spirits that were haunting her. In her fragile condition I find that very believable.
There are so many more stories that they share with you on the tour and really you MUST see the house in person.  The tour was excellent and our guide was very knowledgeable. If you are in the San Jose, CA area, I would highly suggest spending at least a few hours at the house.  In fact until 9/30/14 you can save $3 off each Mansion or Grand Estate tour purchased on line! Just use the code "
DONNAHUP
" upon check out! Purchase must be made at least 24 hours prior to arrival.
You can purchase tickets online here
.
Connect with them: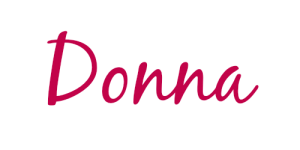 donnahup.com receives free products for review purposes, and may sometimes be compensated for posts. All opinions expressed are solely from donnahup.com. See donnahup.com's Disclosure Policy for complete details. My opinions are my own and were not influenced by any form of compensation. This disclosure is done in accordance with the Federal Trade Commission 10 CFR, Part 255 Guides Concerning the Use of Endorsements and Testimonials in Advertising.