Cedar- Planked Salmon with Honey-Lime Dressing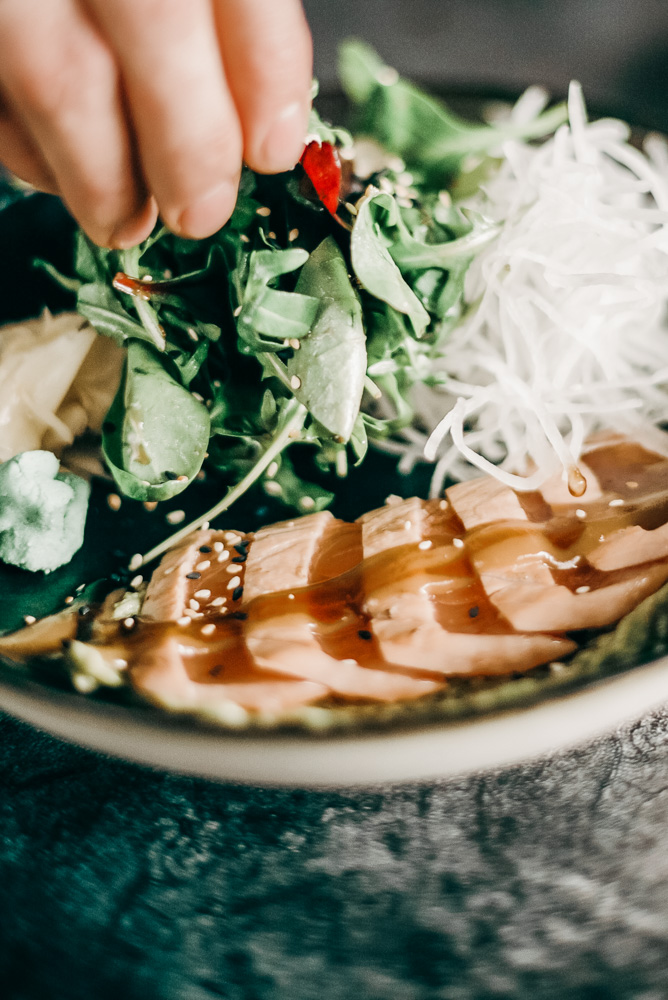 Prep Time: 20 minutes Grilling Time: 25 to 35 minutes
This is a fresh and delicious recipe.  Not only does it taste good, but it's good for you!
Dressing:
2 tbsp fresh lime juice 2 tbsp rice vinegar 2 tbsp Dijon mustard
2 tbsp honey
2 tbsp minced fresh chives
1 tsp kosher salt
½ tsp granulated garlic
½ tsp freshly ground black pepper
¼ tsp ground cayenne pepper
¼ cup extra virgin olive oil
1 large salmon filet (with skin), 2 ½ to 3 lbs, about 16 in long and ¾ in thick
½ tsp kosher salt
¼ tsp freshly ground black pepper
1 untreated cedar plank (about 16 in by 8 in and at least ¾ in thick), submerged in water for at least 1 hr
Step 1: To make the dressing: In a blender, combine the dressing ingredients except the oil. Mix until the well blended. With the blender still running, slowly pour in the oil to make a smooth dressing.
Step 2: Place the salmon on a rimmed baking sheet. Using needle nose pliers, remove and discard any pin bones from the salmon. Season the flesh side of the salmon with the salt and pepper. Pour about half of the dressing over the flesh and use a brush to distribute it evenly.
Step 3: Remove the soaked plank from the water and immediately place it over direct high heat until the edges start to smoke and char, 3 to 10 minutes (watch carefully so it doesn't flame). Move the plank over indirect high heat and place the salmon, skin side down, on the plank. Grill until the salmon is just slightly pink in the center and brown on the edges, 20 to 25 minutes. Remove the plank and salmon to a heatproof surface. Serve warm with the remaining dressing. You can serve this over green bean, asparagus, spinach or your favorite vegetable.
Makes 8 to 10 servings