Fuji Apple Chicken Salad Recipe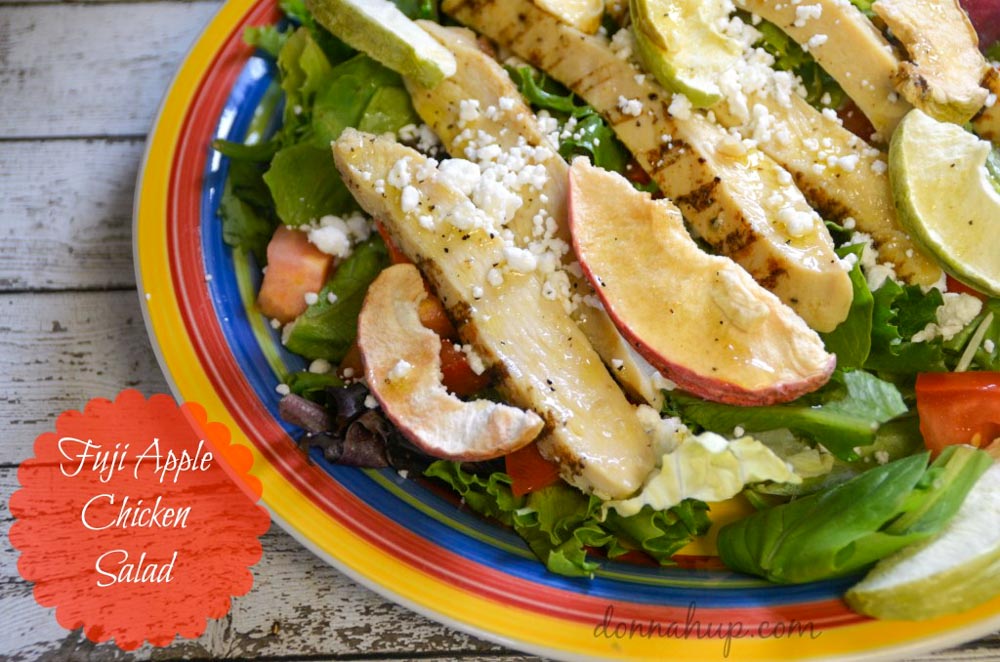 I have really been trying to eat healthy but the problem with it is I like food too much! Laugh if you want, but it's true. I crave things like pizza and mac n cheese and anything chocolate. I'm learning that getting creative with my food helps. Yes, it takes more time but it tastes really good and ultimately it's better for me.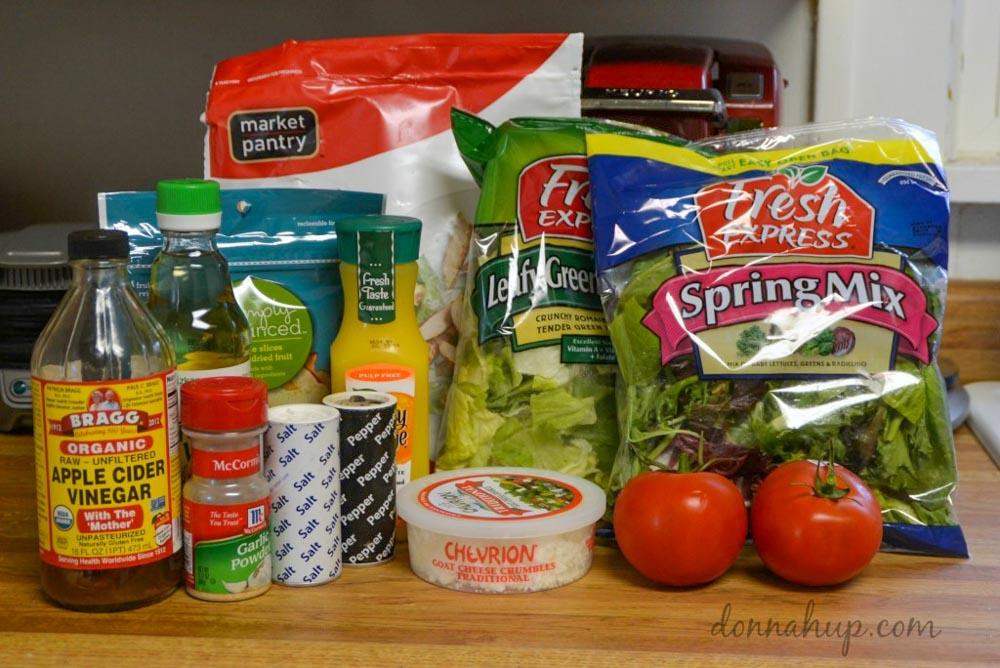 I live in a super small town so when I'm in the twin cities I choose to eat at more common places that we don't have. One of my choices is Panera because I love their Fuji Apple Chicken Salad!  Just talking about it makes my mouth water. I don't feel like driving an hour and a half each way and really it's not economical so I knew I had to come up with something else. There are a ton of copycat versions on the web so I don't know who to credit with the original but here is how I make it.
Ingredients:
8 oz chicken
1/4 cup orange juice
1 tsp black pepper
2 c romaine lettuce
2 c spring mix
1 c tomatoes
1 oz goat cheese
bag of apple chips (I used Target's brand)
For the dressing:
1 tbsp apple cider vinegar
2 tbsp rice vinegar
1 tsp olive oil
1/4 tsp garlic powder
1 dash salt
1 dash pepper
The first thing you want to do is marinate the chicken in the orange juice and 1 tsp of pepper. You can marinate and cook raw chicken, but I don't have the time to do all that. I use the frozen strips you can find at Target.  I just put it all in a ziploc bag around breakfast then they're ready by lunch time.
When you're ready to make your lunch dump the marinaded chicken in a pan and cook until hot. While you're waiting for your chicken to heat up you can plate your salad.
I like easy and this is about as easy as you get. You take all the salad ingredients and put them on your plate 🙂
Then you mix all the dressing ingredients together. I told you I like easy 😉
I did double the ingredients for the dressing and it was entirely too much so stick to the ingredients above.
Doesn't that look delicious?! It's not an exact to the Panera, but it's pretty darn close and it's super tasty!
Enjoy!!