Chocolate Mini Bundts with Chocolate Ganache and Caramel Buttercream Frosting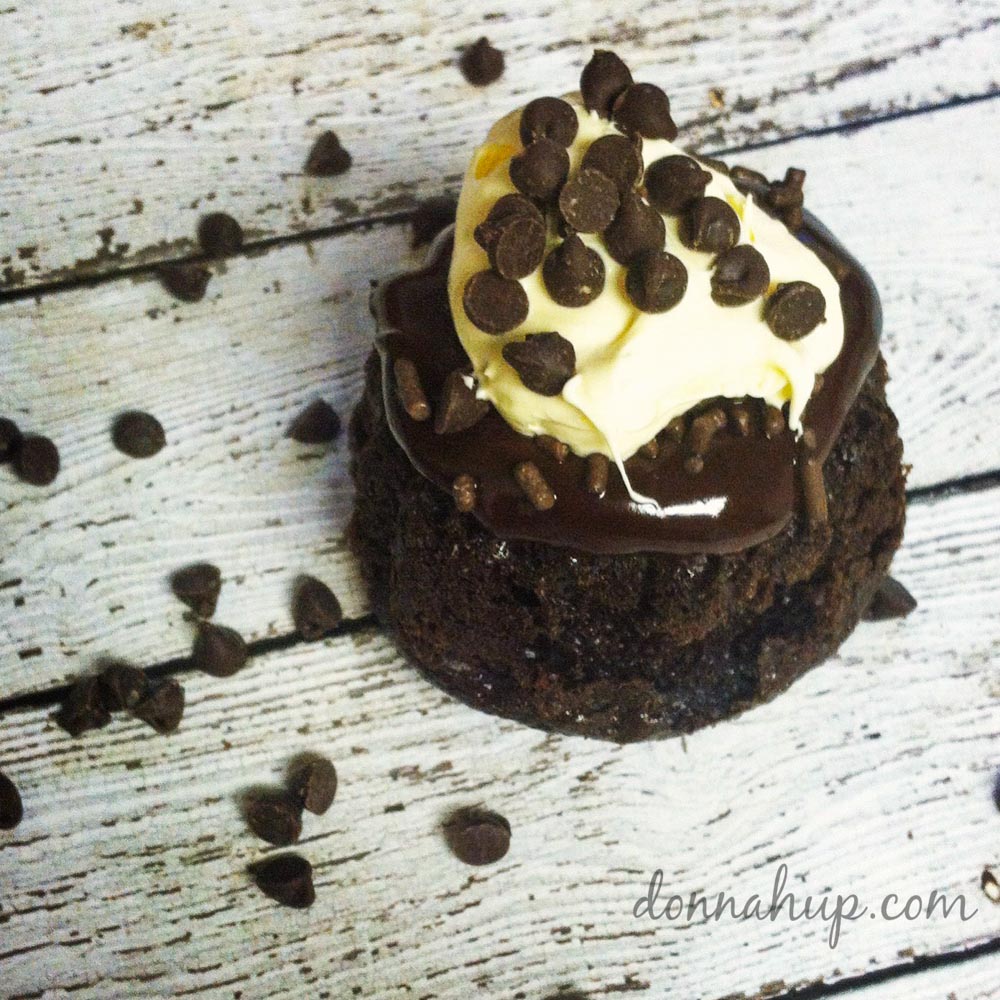 The greatest gift of life is friendship, and I have received it. – Hubert H. Humphrey
I have been very fortunate to have some amazing friends in my life and I'm extremely  fortunate to have the close girl friends I have now. They're the best friends ever and I'm not just saying that, they really are. These are the type of friends that will not only be there for you to cheer you on and encourage you (they are very good at that) but they're the ones that will cry with you and be there for you when you need it. Another wonderful attribute is they love they same silly stuff I do.
We love baking and we love bundt cakes. It may be silly but it's our thing.  In fact we just had our second annual Mega Bundt. What is a Mega Bundt? It's pure awesomeness.  Basically  it's a huge potluck and everything you make has to be made in a bundt pan or served in a bundt pan. Last year we had t-shirts made and this year we made aprons.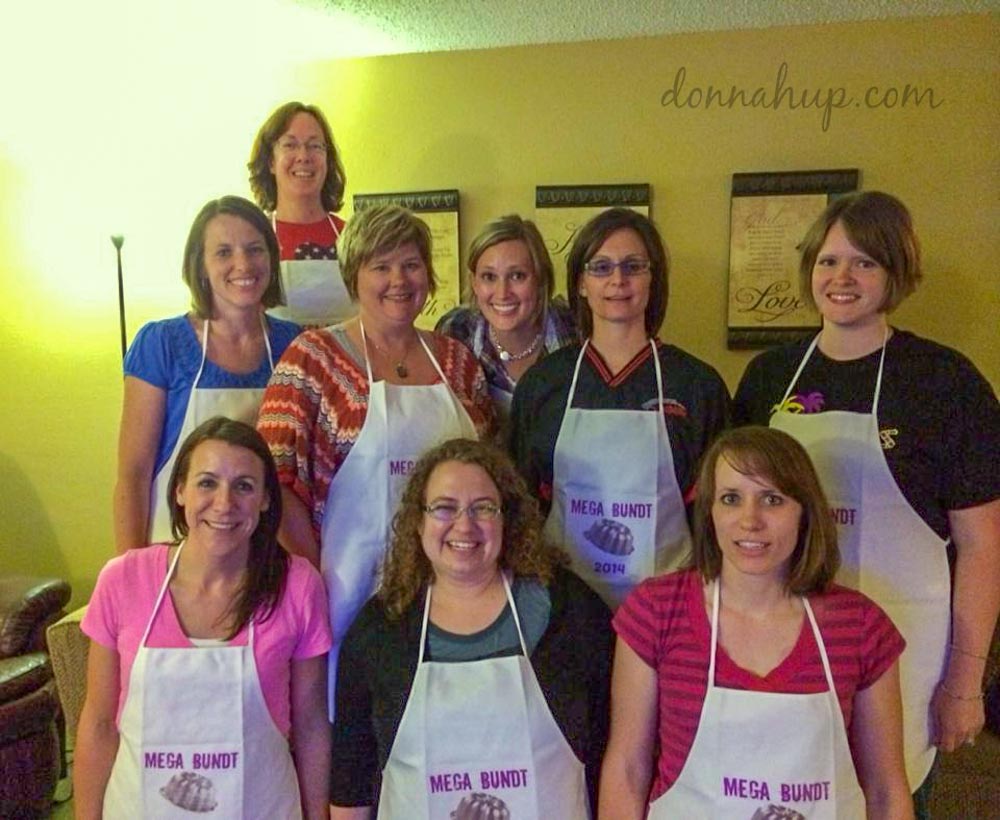 Okay, so it may be a "nerdy cool" but I love that we are not afraid to be ourselves with each other and we always have tons of fun.
This year I decided to make a mini bundt dessert. I found some inspiration over at Love from the Oven.  I decided to make Chocolate Mini Bundts with homemade chocolate ganache and caramel buttercream frosting.
I started with gluten free chocolate cake mix. You can use your favorite chocolate cake mix. I use the King Arthur Flour GF Chocolate Cake Mix.  I baked them in a Mini Bundt Cupcake Pan.
Once the mini bundts were cooled I filled the inside with caramel. Then I made the chocolate ganache.
Ingredients for Chocolate Ganache
8 oz of semisweet or bittersweet chocolate
3/4 cup heavy whipping cream
2 tablespoons unsalted butter
Heat the cream and butter in a small saucepan over medium heat. You can also do this in a microwave. Bring just to a boil. Immediately pour the boiling cream over the chocolate. Allow it to stand for a few minutes with out stirring.
Stir gently with a spoon or whisk.  It's important not to get air in the ganache while stirring. Stir until smooth.
I then covered each of the mini bundts with the ganache and sprinkled them with chocolate sprinkles.
After that comes the caramel buttercream frosting.
Then I dolloped the frosting on each mini bundt and topped them with mini chocolate chips.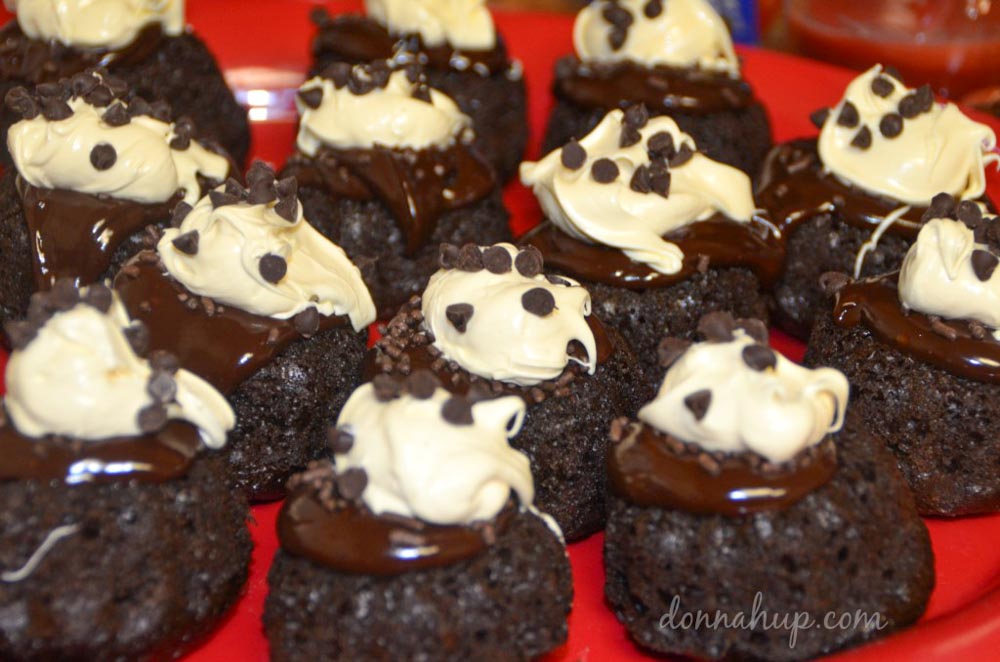 I made three dozen of them and there were none left.  This is one I'll make again and again.
Enjoy!