Buffalo Cauliflower Bites
I've been successfully eating clean for 2 weeks now. I will tell you that I have had quite a bit more energy and overall I've been feeling much better.  I don't really crave sweets much anymore. I have been crazing buffalo wings though! Just thinking about the smell of the sauce makes me hungry for them. I knew I had to come up with something else.
My secret weapon to healthy buffalo wings is cauliflower! Yes, you read that right. Trust me these tasted just like buffalo chicken nuggets. I don't know how but the cauliflower has super powers like that.
First, heat your oven to 450 degrees.
Next fill two bowls; one with almond milk and the other with gluten free flour. I used King Arthur Gluten Free Multipurpose Flour.  Break the cauliflower off into pieces then dunk in the almond milk then flour and place onto a baking sheet.
Bake the cauliflower for about 15 to 20 minutes.
While it's baking you can put together the wing sauce.
3 tbs EVOO
1/4 cup hot sauce, I used Frank's
2 tsp chili powder
1/2 tsp cayenne pepper
1 and 1/2 tsp brown sugar
1/8 tsp garlic power
1/4 tsp paprika
1/4 tsp cumin
1/2 tsp salt
Mix all the ingredients together. I found it was easy to stir them up in a tupperware container. I even put the lid on and shook it so it all mixed together.
After the 15 to 20 min, pour the sauce over the cauliflower and return to bake 5 more minutes.
After that flip them over and bake an additional 5 minutes.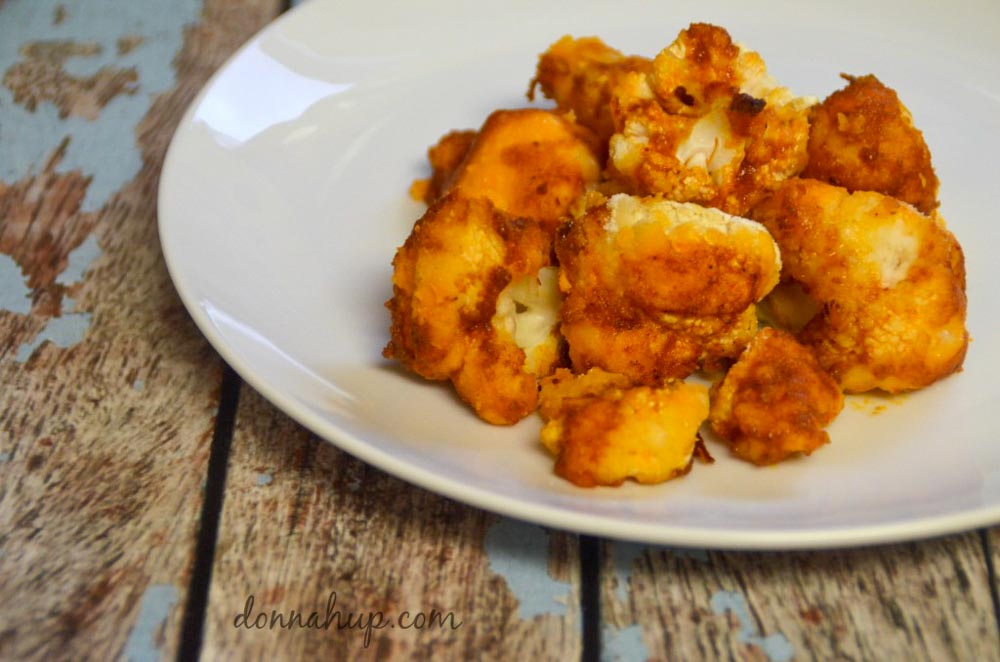 Serve and enjoy!