Breathe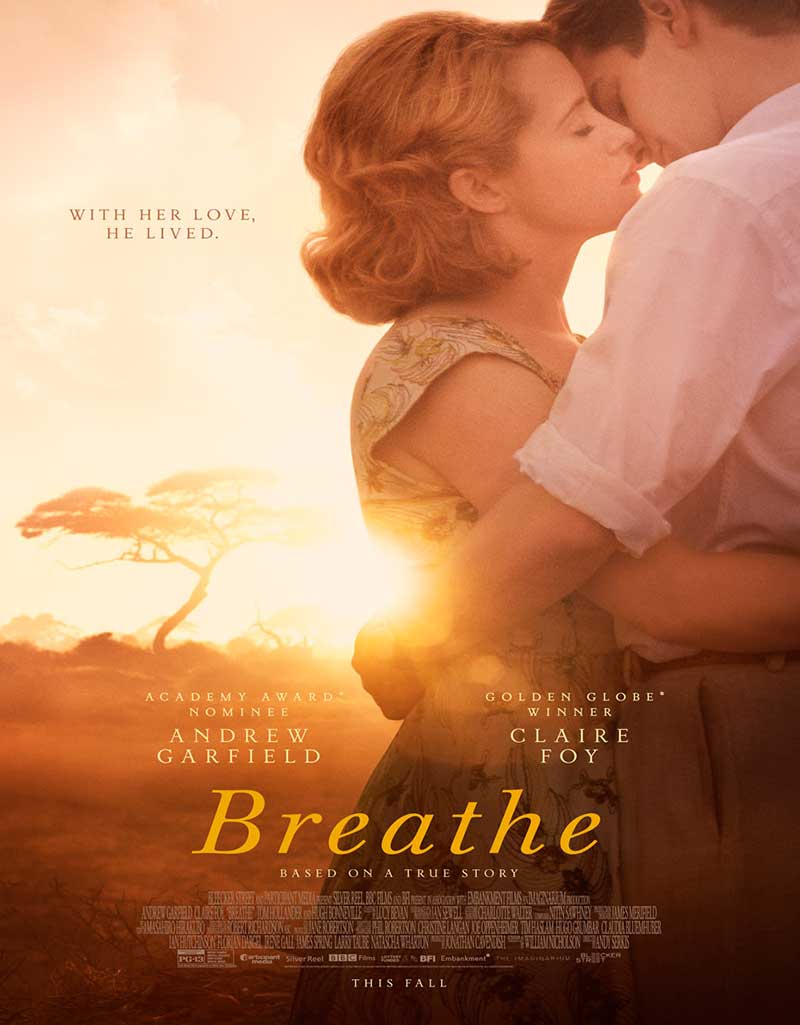 It's October, Halloween is fast approaching, and I have risen from my metaphorical blogger grave to bring you this review of Breathe. It stars Andrew Garfield (swoon) and Claire Foy (swoon part two), along with a whole host of other super attractive and equally as talented Brits, and is directed by Andy Serkis. It was my first film of The Twin Cities Film Festival this year, and I cried the whole time because I still love biopics, and Andrew Garfield is still my spiderman, but that's beside the point.
As I mentioned, I'm a sucker for pretty much anything that's a true story and bonus points if its historical. So I came in with a feeling I'd enjoy it…and it did not disappoint. It's based on the life of Robin Cavendish, who was paralyzed from the neck down after contracting polio, and his wife Diana who struggle to navigate a world with very little resources for the severely disabled.
Andrew and Claire have a beautiful and intimate chemistry that really is the bedrock of this narrative, without it the story would fall flat. The heart of this film is connection; between a husband and a wife, a father and son, good friends and on and on. It's what I really loved most, because ultimately I feel that if a movie can capture that authentically, it in one way or another will succeed at connecting with it's viewer.
Breathe is a vibrant and emotional story of strength in the face of hardship. I really loved it, and while I might be biased because of my undying love for Andrew, I really did think this was a great film that the whole family will take something away from. It's out in theaters now! So grab some tissues just in case, and let us know what you think.
P.S The Twin Cities Film Fest is far from over! It runs until October 28th and has plenty of incredible films for every movielover! You can check out the full lineup and purchase tickets at http://twincitiesfilmfest.org/films/ and follow them @TCFilmFest on twitter!