Best Vegan Mac and Cheese
There is something so comforting about Mac and Cheese. I'm not sure what it is about it. Maybe it's because we didn't get it all the time when we were kids so it's an extra special treat. It's warm and cheesy – what's not to like? I've been able to eat most pasta meals gluten free now with all the great gluten free options. Cheese however is a trigger food for me and causes me to gain weight more than other foods. That's probably why I like it so much. I needed to come up with a cheese free mac and cheese recipe. Cheese free Mac and CHEESE? Yes! And honestly, I think it's even better!
Look friends, no cheese! In fact, my ingredients may surprise you. I started by dicing up 1 and 1/2 cups of cauliflower and 1 and 1/2 cups of sweet potatoes and roasted them. (375 degrees for about 25 minutes)
While the cauliflower and sweet potatoes are roasting, cook your pasta. Any gluten free pasta will work. I like the spirals 🙂
In a blender or food processor combine 3/4 cup almond milk, 1/4 cup EVOO, 1 clove garlic, 1 tsp salt, 1 tsp onion powder, 1 tbsp dijon mustard, and 1/2 tsp paprika. When your veggies are done roasting, add them to the mix.
Combine it until smooth. Then pour it over your drained pasta and mix.
I always add parsley for the color and for taste. Enjoy!!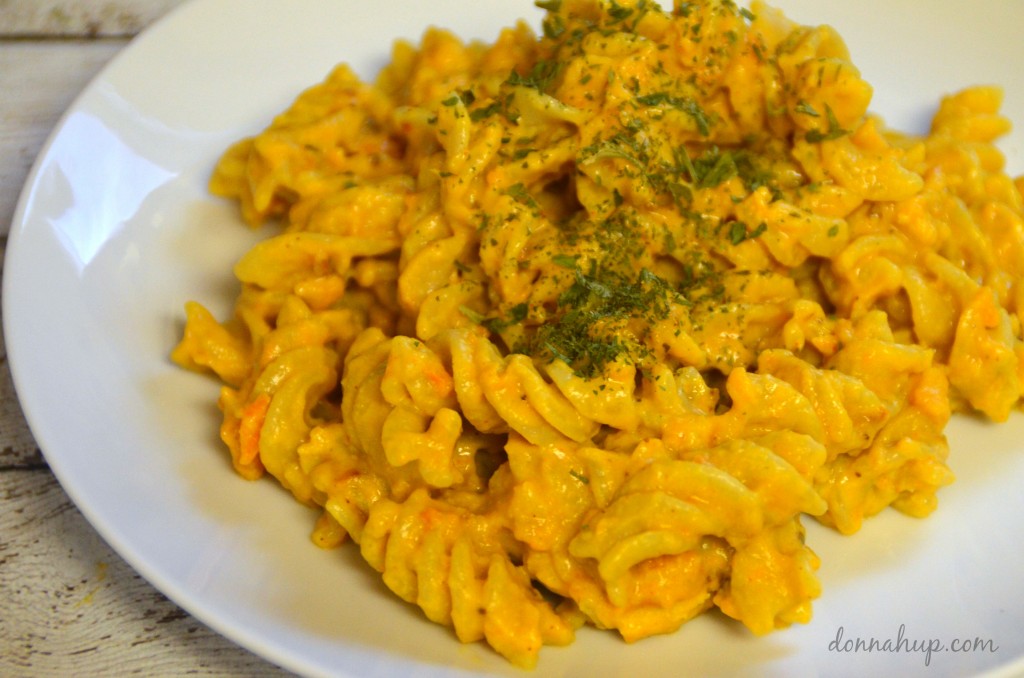 Vegan & Gluten Free Mac and Cheese
Ingredients
9 to 12 oz gluten free pasta

1 and 1/2 c cauliflower

1 and 1/2 c sweet potato

1 cup nutritional yeast

3/4 c almond milk

1/4 c EVOO (extra virgin olive oil)

1 clove garlic

1 tsp salt

1 tsp onion powder

1 tbsp dijon mustard

1/2 tsp paprika

parsley
Instructions
Dice cauliflower and sweet potatoes. Roast.

Cook pasta as directed.

Mix remaining ingredients in blender or food processor. Add veggies when done roasting.

Mix sauce and pasta. Top with parsley.

Enjoy!