Ask a Trucker #TruckerTuesday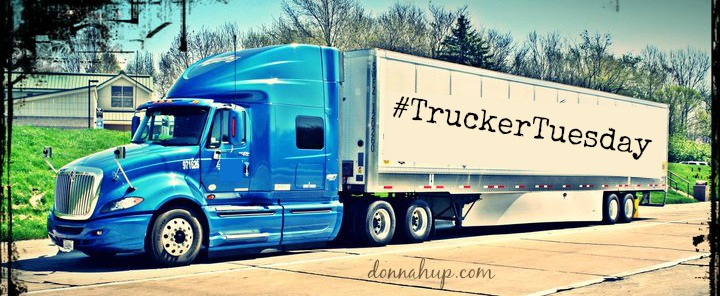 This week I'm answering questions that you all have asked.
Is there a truck driving job where its just daily? & you don't have to be out over night? – Josh B
Yes.  There are all sorts of truck driving jobs. My husband and I drove OTR which means over the road and we drove cross country weeks at a time.  You can drive a local route which could put you home in the evenings or home on the weekends.  You could also drive something like a local grain truck when needed. There are all sorts of opportunities and jobs in the trucking industry.
Is it worth going for these days? I want a simple life and trucking honestly seems to be a great fit for me. – Dillon K.
Trucking is a very simple life. It's you, your truck, and the open road. Okay, you have deliveries and pick ups, but basically it's just you, your truck, and the open road in between those pick ups and deliveries. If it's just you, I think it's totally worth trying. It's a really fun lifestyle and you get to explore new places!
Hi I'm a truckers wife and I'm riding along with my husband. My question is there any jobs that we riders can do while our to bring in our own money/help our partners? – Jessie W.
Yes. I drove with my husband – you could always get your CDL too. If you don't want to you could blog!  If you like any sort of arts and crafts (painting, crocheting, etc) you could sell them on Etsy as a side job.
Can I bring my wife and 2 kids otr with me for about 3 months so we can save money to buy a house? I have a tv and everything entertainment wise fridge microwave and even mini stoves for cooking can I get a second opinion on this I thinks its smart for saving money and its just 3 months – Ronnel M.
That's a question for your employer. Yes, technically you could travel with the 4 of you – it will be crowded. It's completely doable though. I would probably find things for your kids along the way so they're not cooped up in the truck. As far as your employer, it's an insurance thing. They need to be named as riders.
Hope that answers your questions!
Do you have a question? Email me at [email protected] and put Trucker Tuesday in your subject line.
Safe travels!