I was so excited to pick up this brand new 2014 Kia Forte EX! I love the look of it. It's sporty and sleek. The munchkins thought it was pretty sweet looking too.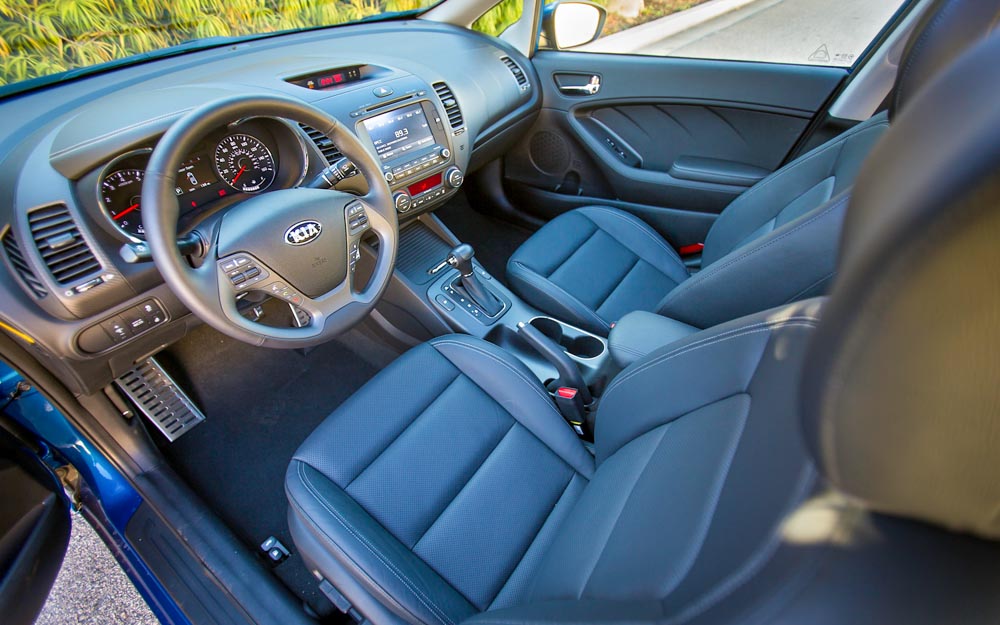 It had so many awesome features such as a sunroof, navigation, sirius radio, blue tooth capability, and more!  I had never driven a car with a "keyless key" I have to say though that I absolutely love it. As long as the key is on you, you simply step on the break and push the start button.  The interior is really comfortable and it's so much fun to drive.
As far as driving it's very smooth and I love the gas mileage! I averaged about 28 MPG.  It also has a rear back up cam which comes in really helpful. It even can be seen in the dark which is great when trying to back out of tight spaces. The munchkins loved the sunroof. They also pointed out features I didn't notice right away but I'm impressed with.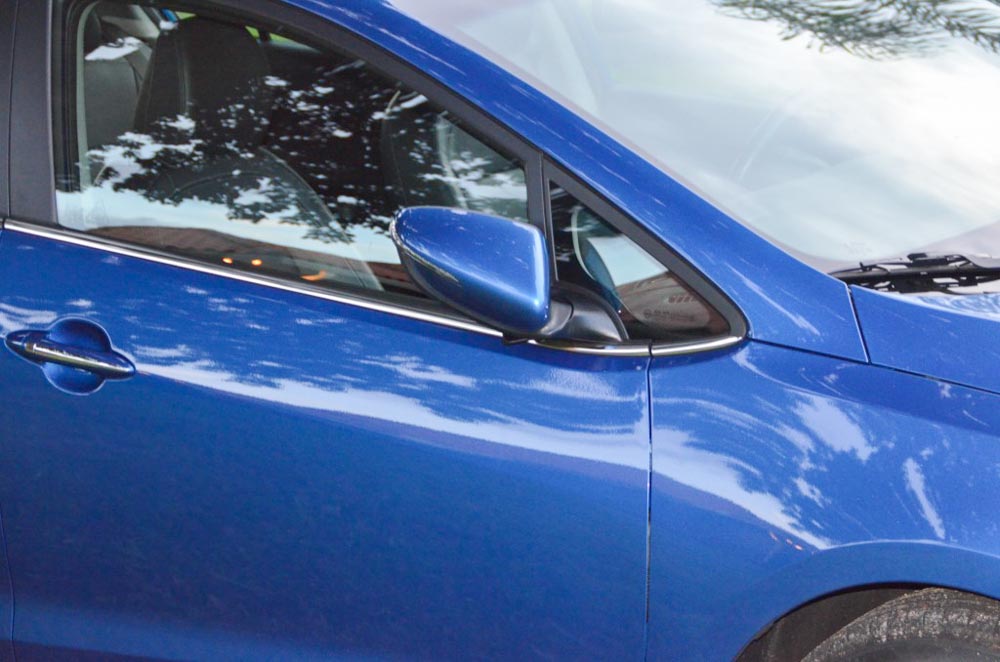 When you lock the doors the side view mirrors automatically turn in! I love this feature. I actually had a car that had it's side view mirror clipped off in college. I had my car parked in it's spot in the parking lot and when I went out to it in the morning the mirror was gone. I think this feature is fantastic! The munchkins love watching the mirrors turn in and out when I lock and unlock the doors.  Also, when you unlock the doors at night a little light turns on over the door handles!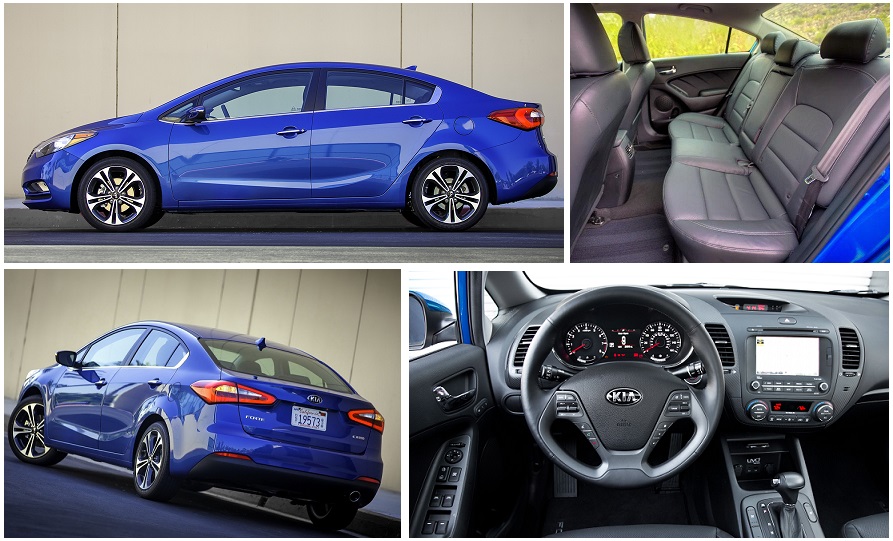 There is a spot to plug in your iPad just below the navigation screen in the center console and you can listen to your play lists! You can also sync your smart phone with the blue tooth and use hand free. I made a phone call to my sister (I could hear her through the radio and not only could I speak to her, but so could the munchkins). Kelsey said, "I love this car! It has everything. You don't have to do anything!"  Needless to say they did not want to have to turn the car in.  I also really liked having the controls on the steering wheel to make it easy to skip songs, change the volume, and it even has voice control.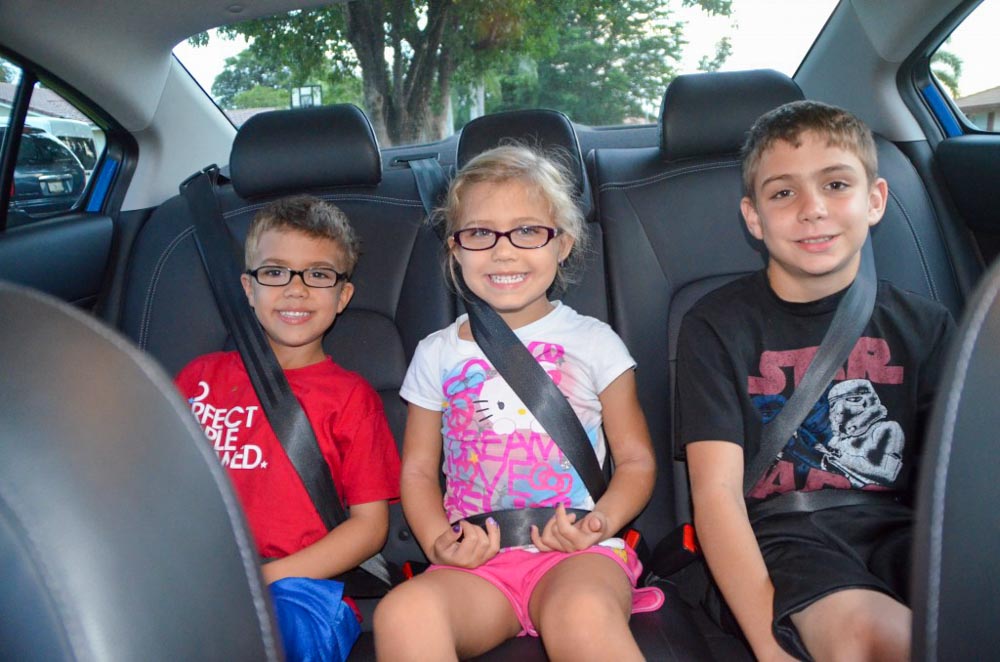 It fits all 3 munchkins comfortably in the back seat. It also allows you to turn off the passenger side air bag so Jayden (age 10) was able to also ride up front.
I have to confess that before I drove this car I didn't know much about Kia. In fact I would have never have even considered them when purchasing a car. I was totally missing out! I am so impressed by the comfort and all the upgrades. I started noticing Kias on the road while I was driving and now that I'm home.  My husband and I have been looking at cars and Kia is totally in the running now. I had no idea they had so many great models and I highly recommend that you check them out if you have not already.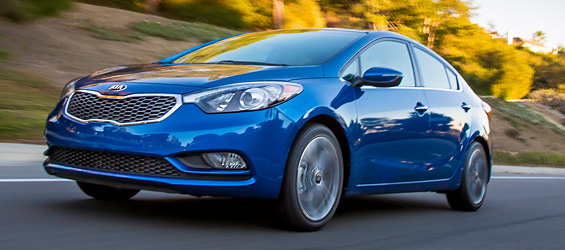 Here are the specs on the 2014 Kia Forte EX:
 
EX
ENGINE
TYPE/LAYOUT
2.0L Gasoline Direct Injection (GDI)
HORSEPOWER
173 hp @ 6500 rpm
TORQUE
154 lb. ft. @ 4700 rpm
VALVE SYSTEM
DOHC D-CVVT 16V/V
DISPLACEMENT
1,999 cc
BORE X STROKE (MM)
81 x 97
COMPRESSION RATIO
11.5:1
FUEL SYSTEM
GDI (Gasoline Direct Injection)
FIRST
4.212
SECOND
2.637
THIRD
1.8
FOURTH
1.386
FIFTH
1
SIXTH
0.772
REVERSE
3.385
FINAL DRIVE RATIO
3.064
LAYOUT/DRIVE
Front engine/FWD
 
EXTERIOR DIMENSIONS
WHEELBASE (IN.)
106.3
LENGTH (IN.)
179.5
WIDTH (IN.)
70.1
HEIGHT (IN.)
56.5
TRACK (IN.), FRONT/REAR
61.1/61.7 (16″ wheel), 61.3/61.8 (17″ wheel)
MIN. GROUND CLEARANCE (IN)
5.5
 
INTERIOR DIMENSIONS
SEATING CAPACITY
5 passenger
HEAD ROOM, FRONT/REAR (IN.)
39.1 / 37.3
LEG ROOM, FRONT/REAR (IN.)
42.2 / 35.9
SHOULDER ROOM, FRONT/REAR (IN.)
56.1 / 54.9
PASSENGER VOLUME (CU. FT.)
96.2
TRUNK CAPACITY (CU. FT.)
14.9
AIRBAGS
6
 
CHASSIS/SUSPENSION
FRONT
Strut type, coil spring
REAR
Torsion beam, coil spring
CONSTRUCTION
Unibody
 
STEERING
ASSIST
Electric motor
TURNS LOCK-TO-LOCK
2.96
TURNING CIRCLE (FT.)
34.8
STEERING RATIO
14.5:1
 
BRAKES
TYPE FRONT/REAR
Vented disc / solid disc
SIZE (IN.) FRONT/REAR
11.0 / 10.3
 
WHEELS/TIRES
TYPE
P205/55R16, P215/45R17 (Optional)
WHEEL SIZE (IN.)
16 x 6.5, 17 x 7.0 (Optional)
TIRE SIZE
205/55R16, 215/45R17 (Optional)
TIRE MAKE/MODEL
Kumho / Nexen, Hankook / Nexen (Optional)
 
CURB WEIGHT
6-SPEED MANUAL
–
AUTOMATIC TRANSMISSION
2,857 lbs.
 
ESTIMATED FUEL ECONOMY
MANUAL TRANSMISSION, CITY/HIGHWAY (MPG)
–
AUTOMATIC TRANSMISSION, CITY/HIGHWAY (MPG)
24/36
FUEL CAPACITY (GAL.)
13.2
Donna's Deals And More receives free products for review purposes, and may sometimes be compensated for posts. All opinions expressed are solely from Donna's Deals And More. See Donna's Deals And More's Disclosure Policy for complete details. My opinions are my own and were not influenced by any form of compensation. This disclosure is done in accordance with the Federal Trade Commission 10 CFR, Part 255 Guides Concerning the Use of Endorsements and Testimonials in Advertising.