Tuna Patties with Sauce Recipe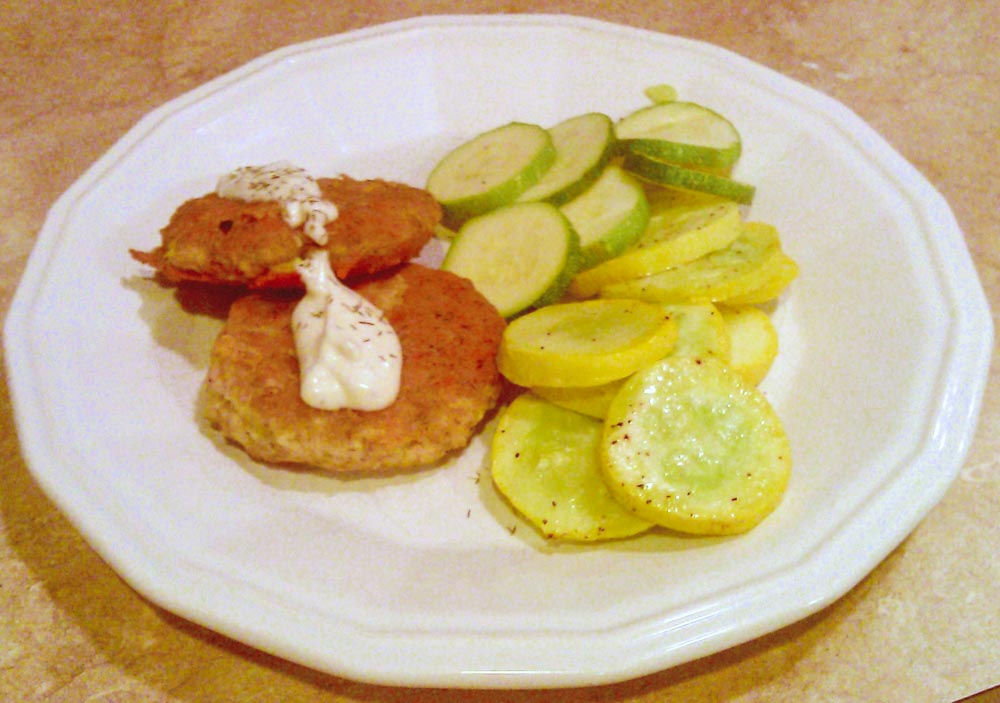 Tuna Patties with a Garlic Lemon Aioli
Tuna Patties
3 (5 ounce) cans tuna packed in water, drained
2 eggs
1/2 tablespoon dried dill
1/2 teaspoon sea salt
1/4 teaspoon black pepper
2 tablespoons coconut oil
Directions:
1. Mix tuna with egg, dill, salt, and pepper
2. In large skillet heat coconut oil over medium to medium-high eat (make sure the oil is nice and hot)
3. Form the tuna mixture in 6 small slightly flattened patties and cook in the hot oil for 2 – 3 minutes
4. You may not be able to fit all 6 patties into your pan at the same time, so you might have to ad more oil for each batch.  Make sure the patties are brown before you flip them so that they hold together!  Serve the garlic lemon aioli with the tuna patties.
Garlic Lemon Aioli sauce
1/2 cup mayonnaise
Juice from half of a lemon
1 tablespoon of finely minced garlic
1/4 teaspoon of black pepper
Stir ingredients together and serve.
Thank you to Robin's Sweet Confessions for the recipe.
Follow Donna Hup 's board Found on donnahup.com on Pinterest.
Tuna Patties
Author:
Prep time:
Cook time:
Total time:
Ingredients
3 (5 ounce) cans tuna packed in water, drained
1/2 tablespoon dried dill
1/4 teaspoon black pepper
2 tablespoons coconut oil
Instructions
Mix tuna with egg, dill, salt, and pepper
In large skillet heat coconut oil over medium to medium-high eat (make sure the oil is nice and hot)
Form the tuna mixture in 6 small slightly flattened patties and cook in the hot oil for 2 – 3 minutes
You may not be able to fit all 6 patties into your pan at the same time, so you might have to ad more oil for each batch. Make sure the patties are brown before you flip them so that they hold together! Serve the garlic lemon aioli with the tuna patties