Trucking Stats this Trucker Tuesday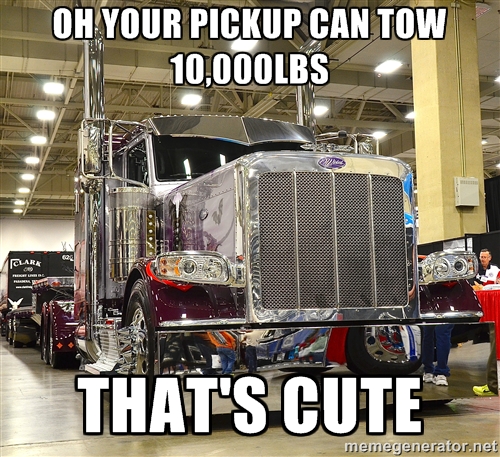 As a driver this meme made me giggle.  I thought I'd share some stats about driving a big rig.
13 Gears
13 gears is standard, but there are other trucks that have even more gears. You also have to double clutch (press the clutch in when taking it out of gear and again when you put it into gear).
18 Wheels
The tractor itself has 10 wheels and the trailer has 8 wheels. I once heard a woman ignorantly complain that trucks should be able to stop on a dime with all those wheels which brings me to my next stat …
40 tons
Fully loaded that's 80,000 pounds!  The average weight of a car is 2 to 3 tons (4,000 to 6,000 pounds).  That's why it takes us longer to brake.  We have a lot more weight we're trying to bring to a stop.
72 Feet Long
A standard trailer is 53 feet making the rig 72 feet long altogether. There are some tractors that pull two or three shorter trailers at the same time making them even longer.
500 Horsepower
Horsepower is defined as work done over time. The exact definition of ONE horsepower is 33,000 lb.ft./minute. Basically if you were to lift 33,000 pounds one foot over a period of one minute, you would have been working at the rate of one horsepower. Between a Hybrid and a vehicle with V6 you're looking at between 200 to 300 horsepower.
1800 lbs of torque
In a car, torque is the force that pistons put on the crankshaft, causing it and the wheels to turn.  Horsepower is what you read about, torque is what you feel.
Safe Travels!