Summer Spicy Slaw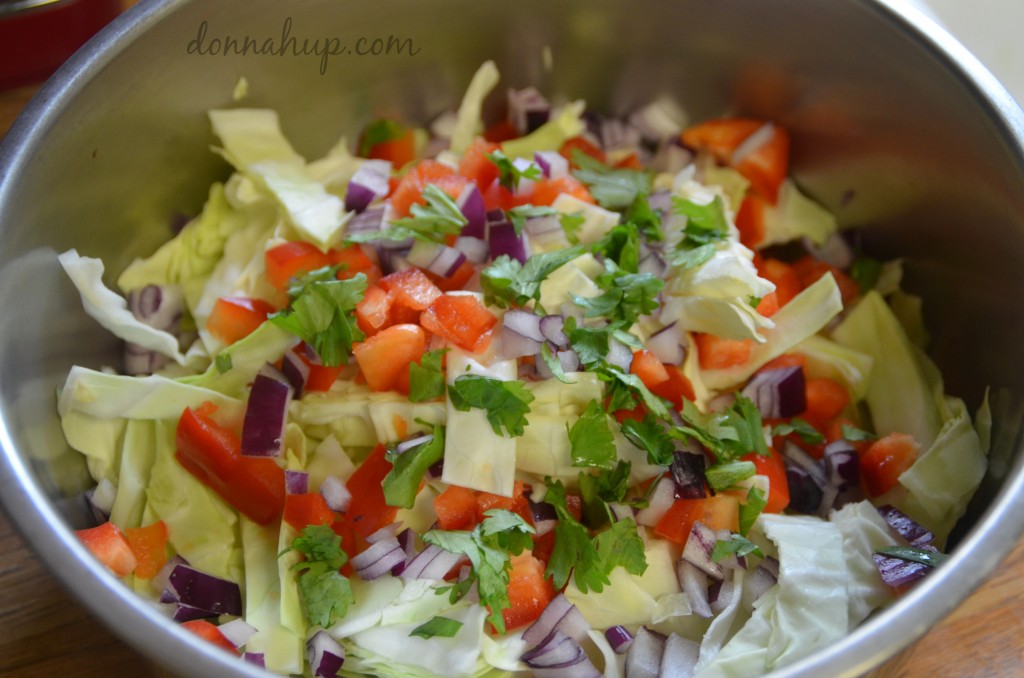 Summer is just around the corner and that means grilling and picnics! I love outdoor barbecuing.  I'm always looking for an easy and delicious recipe.  I'm not a huge fan of coleslaw. My grandma made one that I loved, but I never got her recipe. Most slaw is too heavy for me so I was excited to make this lighter summer slaw.
Let me tell you this tastes nothing like coleslaw! It has cabbage, red peppers, red onions, and cilantro. I tossed it with a homemade dressing. It's light, summery and delicious.
It pairs fantastically with Whiskey BBQ Chicken and Chili Lime Corn on the cob. Get all the recipes here.  While you're at it … check out all the recipes below for a spectacular summer spread!
Slaw
Recipe adapted from [url href="http://www.sunset.com/greatoutdoorscookbook" target="_blank"]Sunset's The Great Outdoors Cookbook[/url]
Ingredients
1 lb cabbage, cut into shreds
1/4 red onion, cut into long slivers
1/2 red bell pepper, cut into thin strips
2 tbsp chopped cilantro
1/4 cup extra virgin olive oil
2 tbsp sugar
2 tbsp champagne vinegar
1 tbsp lime juice
1/2 tsp red chile flakes
1/2 tsp kosher salt
1/4 tsp pepper
Instructions
Make Slaw: Toss vegetables in a large bowl to blend. Put remaining ingredients in a small container then pour over vegetables and toss.