Spaghetti Squash with Kale Pesto and Sautéed Shrimp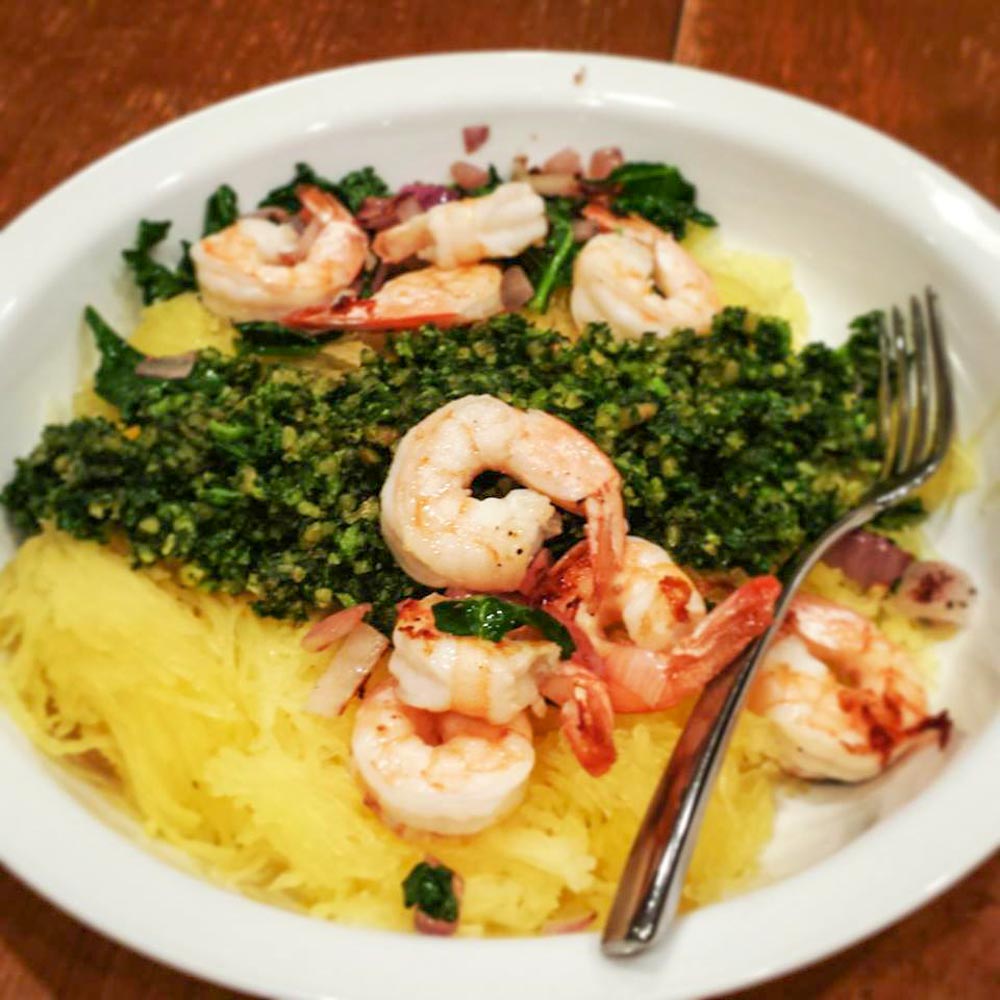 Spaghetti Squash with Kale Pesto and Sautéed Shrimp
Ingredients:
1 whole Spaghetti Squash
1.5- 2 Cups of kale
1 tbsp olive oil
1/2 cup of walnuts
Salt to taste
14-16 "large" shrimp, thawed
Directions:
1. Microwave the spaghetti squash for 1 minute to soften it slightly. Cut the squash in half and remove the seeds using a spoon.
2. Rinse the two halves with a little water and salt and pepper them. Leave about 1 tbsp of water in the bigger half. Place them in a microwave safe dish, putting the halves together again so it can easily steam with the additional water.
3. Microwave for 10 minutes.
4. Saute the shrimp for 3-4 minutes on each side in a bit of coconut oil. You can use any protein you wish, or any cooking method preferred.
5. Take 1.5-2 cups of kale and put it in the food processor. Add the olive oil, the walnuts, and some sea salt. Pulse until it is a pesto consistency. You may have to add more oil or kale depending on your preference of texture.
6. Carefully touch the top of the squash, it is cooked when it is soft. Remove taking caution that there is steam and it is very hot. Use a fork to shred the squash.
7. Transfer the squash to a plate and toss with the kale pesto and then place the shrimp on top.
Thanks to my friend Ruthie for sharing this amazing recipe!