Roasted Eggplant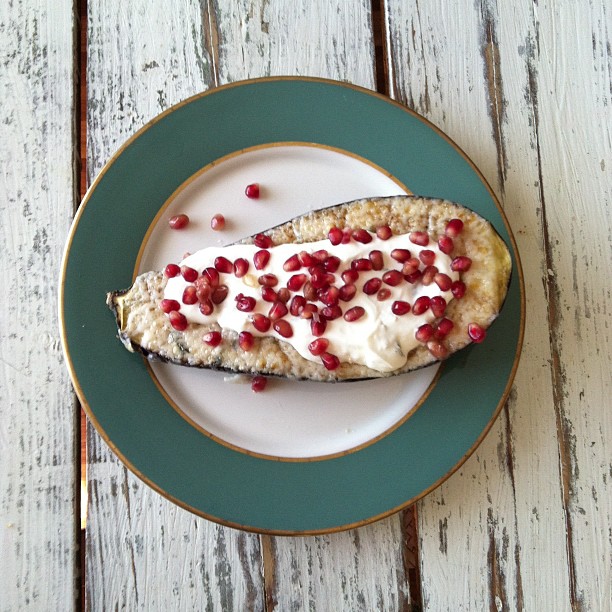 Roasted Eggplant
Ingredients:
1 Eggplant
4 tablespoons Goat Cheese
4 tablespoons sour cream
1 pomegranate
1Lemon
1 teaspoon Thyme
Directions:
Slice eggplant in half, score the flesh pretty deeply with the tip of your knife in a cross-hatch pattern. Don't cut all the way through to the skin (keep your cuts fairly large)
Press on the edges of the halves to open the cuts and sprinkle kosher salt over the surface and into the cuts. Let the eggplant sit cut side up for about 30 minutes while the salt draws out the water. (gently squeeze out water in the sink )
Preheat oven heat the oven to 400 degrees. Gently rub olive oil on eggplant and place in oven for 30 to 40 mins or until fork tender
Mix sour cream, juice of one lemon, and thyme all in one bowl
Take apart pomegranate and place seeds in a bowl.
Place goat cheese on top of cooked eggplant
Spoon on sour cream mixture and pomegranates on top.