MAY IS NATIONAL BBQ MONTH
START THE SEASON WITH THIS BALSAMIC BBQ GLAZED BABYBACK RIBS RECIPE FROM PINSTRIPES BISTRO + BOWLING + BOCCE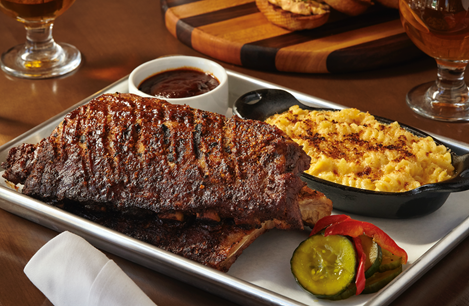 Few things in life signify the start of summer than a perfectly cooked slab of BBQ ribs. Whether smoked, grilled, roasted or a combination of the three, these decadent bites of meat candy will be the hero at many a backyard BBQ over the next several months.
The baby back ribs served at Pinstripes Bistro + Bowling + Bocce are a no-fuss recipe, where the oven does most of the work for you. The addition of pineapple juice to the baking pan and the balsamic BBQ glaze applied to the ribs adds a level of acidity to even out the rich meat, providing a plate of ribs that will keep your guests coming back for more.
Please see below for the full Pinstripes ribs recipe and some pro tips for making the perfect ribs at home, just in time for Memorial Day Weekend! If you're in the Edina neighborhood, stop by with your family and try them and enjoy a true "EATertainment" concept that brings people and families back together by helping them disconnect to reconnect!
Pinstripes Baby Back Ribs (recipe adapted for the home cook)
Pro Tip: To look like you've been sweating over the grill for hours, transfer the baked ribs to a sheet pan and lightly grill them over medium-high heat just until the BBQ sauce caramelizes (approximately 2-3 minutes per side) and serve immediately.
BABY BACK RIBS
Baby Back Ribs (4 slabs)
Whole Grain Mustard (1/2 cup)
Mesquite BBQ seasoning (1/4 cup)
Lawry's seasoning salt (1/4 cup)
Paprika (1/4 cup)
Pineapple juice
BALSAMIC BBQ SAUCE
Vegetable Oil (2 Tbls)
Diced Red Onion (1 cup)
Diced Carrots (1/4 cup)
Diced Celery (1/4 cup)
Salt & Pepper (1/4 cup)
Bourbon (2 Tbls)
Roma Tomatoes (quartered) 2lbs
Chicken stock (1 cup)
Balsamic vinegar (1 cup)
Dry mustard (2 Tbls)
Ground Cinnamon (1 Tsp)
Ketchup (16 oz)
Brown Sugar (1 cup)
Honey (1/2 cup)
Directions
RIBS: Preheat the oven to 250 degrees. Trim excess fat or silver skin from the ribs. Rub the mustard into the top side of the ribs, 2 Tbls per rack. In a mixing bowl, combine the dry seasoning. Season the meat on both sides. Place a wire rack in the bottom of a high walled roasting pan. Add pineapple juice to the pan. Lay the ribs lengthwise in the pan, side by side (you may need two large pans to handle four racks of ribs). Cover the pan with parchment paper and then double wrap in foil. Roast in the oven for four hours. While the ribs cook, prep the sauce.
BBQ SAUCE: In a heavy bottom pot, heat the oil to medium heat. Add the onion, carrots, celery and season with salt and pepper. Sauté until caramelized but not burned (5-7 minutes). Add the bourbon to deglaze the pot and reduce by half. Add tomatoes, chicken stock, vinegar, dry mustard and cinnamon, bring to a boil, then simmer until reduced by half again. Add ketchup, brown sugar, honey and season to taste with additional salt and pepper. Bring to a boil, then simmer an additional 5-7 minutes to combine the flavors. Take the sauce off the heat, let cool and using a burr mixer or blender, blend until smooth.
Let the ribs cool for 10 minutes, then coat with sauce and serve (see Pro Tip above below for that just grilled taste)