How to make Chile Rellenos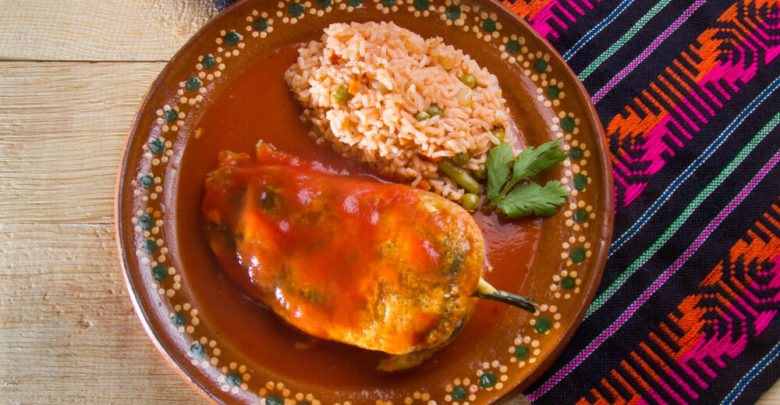 Chile Rellenos are traditionally made by filling chile poblano peppers with either cheese or a spiced meat filling called picadillo. They are then dipped in an egg batter and fried to give the pepper a crispy outer shell and then topped with a tomato sauce.
In the southern United States, Chile Rellenos can be found on the menus of many restaurants but the recipe doesn't seem to have reached into the middle or northern states. If you have never been lucky enough to try one of these peppers, this recipe is a must for you. It is a simple dish but looks elegant enough to serve at a casual dinner party.
To keep the coating crispy, it's best to top the chilis with shredded cheese and serve the tomato sauce on the side in individual ramekins to be poured on just before they are eaten.
Chile Rellenos:
Ingredients for Picadillo:
5 or 6 med to large poblano peppers
1 lb ground beef
2 garlic cloves pressed or finely diced
1/2 onion finely chopped
1/2 red bell pepper cut into small cubes
1/4 c raisins
1/4 c green olives sliced
1 8oz can tomato sauce
1/2 c fresh cilantro chopped
2 tbsp dry sherry or brandy
Instructions:
First prepare the poblano peppers by either steaming in a microwave dish or in a stovetop steamer just until they are fork tender. Don't make them too soft or they will fall apart when they are being filled. In a microwave steam for 45 sec to 1 1/2 min depending on wattage. On stove top about 5 min.
Allow peppers to cool while the filling is prepared.
Next brown the ground beef.
Stir in the onion and garlic and cook for 2 minutes.
Add in all remaining ingredients except the poblano peppers.
Simmer for 15 to 20 min on med low heat.
Ingredients for sauce:
1/2 c onion finely chopped
2 tbsp garlic pressed or finely diced
2 tbsp butter
2 8oz cans tomato sauce
1 4oz can chopped gren chilis
1/3 c white wine
1/2 tsp beef bullion
1/4 tsp dried oregano
Instructions:
Melt butter in frying pan over med heat
Add onion and garlic, sauté until they become translucent
Stir in remaining ingredients and simmer on med low for 15 min
Preparing Peppers:
After peppers have cooled and while sauce is cooking, slice each pepper along it's side from stem half way to tip (only slice open one side so that your pepper forms a pouch that you can fill)
With a spoon, gently scrape out seeds and discard
If desired, peel skin from peppers with the tip of a pairing knife
Arrange peppers on a large plate or cookie sheet so that after each one is filled with meat, you can place them side by side until they are coated and ready to fry
When filling is cooked, divide equally into each pepper using a spoon to transfer filling from pan to peppers
Egg Coating Ingredients:
Instructions:
Separate eggs
Beat egg whites with salt just until firm peaks are formed
Beat yolks until thick and light yellow in color
Fold yolks into whites
Use immediately
Assembly and Cooking Instructions:
Fill a frying pan with 1/4 inch oil
Heat over med heat until a few drops of water sprinkled in the oil crackles when it hits the oil
Take filled poblano peppers one at a time and carefully dip them into egg batter using a fork or spoon if needed to cover entire pepper
Place each pepper carefully into the hot oil and fry until light golden brown
Turn pepper and fry other side
As each pepper is removed, place it on a piece of paper towel to soak up excess oil
Serving Suggestions:
Top each pepper with shredded monterey jack cheese if desired. Serve each pepper with a small side of the tomato sauce