Easy Recipe for Chinese Noodle Soup
The question of which culture invented pasta has been hotly contested, with Italy and China competing recently for the top spot. The discovery, however of a 4,000 year-old bowl of preserved noodles in China in 2005 tips the balance in China's favor (reported in New Scientist 15/10/05). China has been eating noodles for thousands of years, and even brought them to Japan, where it remains a staple food today.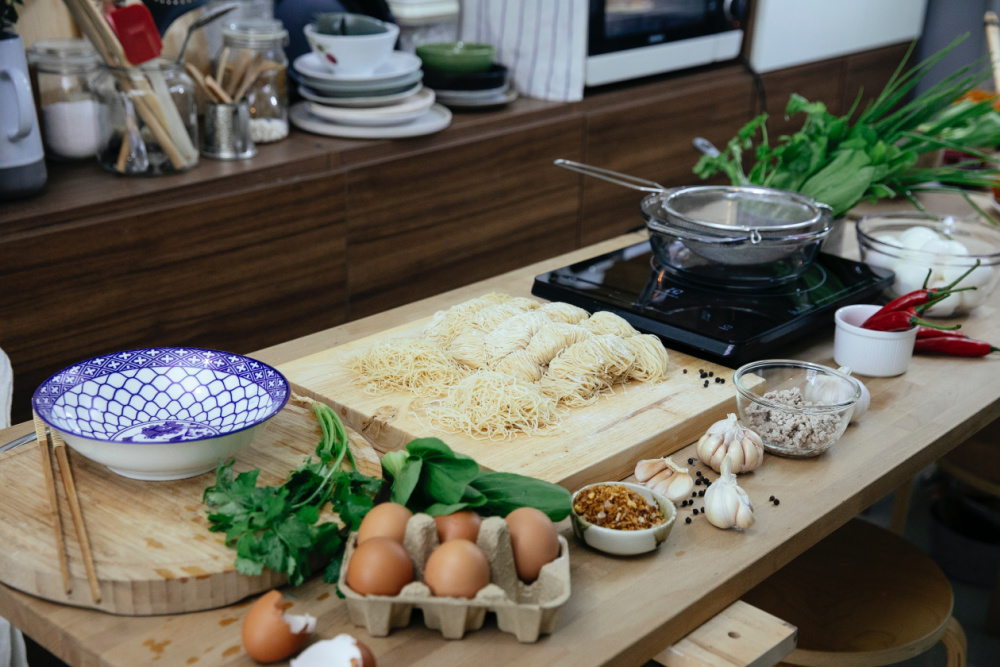 Noodles are satisfying without the need for heavy sauces used frequently in pasta. Instead they are eaten when we need nourishment, whether in need of physical or emotional comfort. Sipping and spooning from a deep bowl of hot spiced liquid also serves one of these purposes.
The noodles are filling, undulating and soft, the vegetables slightly crunchy and very nutritious. The soup itself, is aromatic and comforting.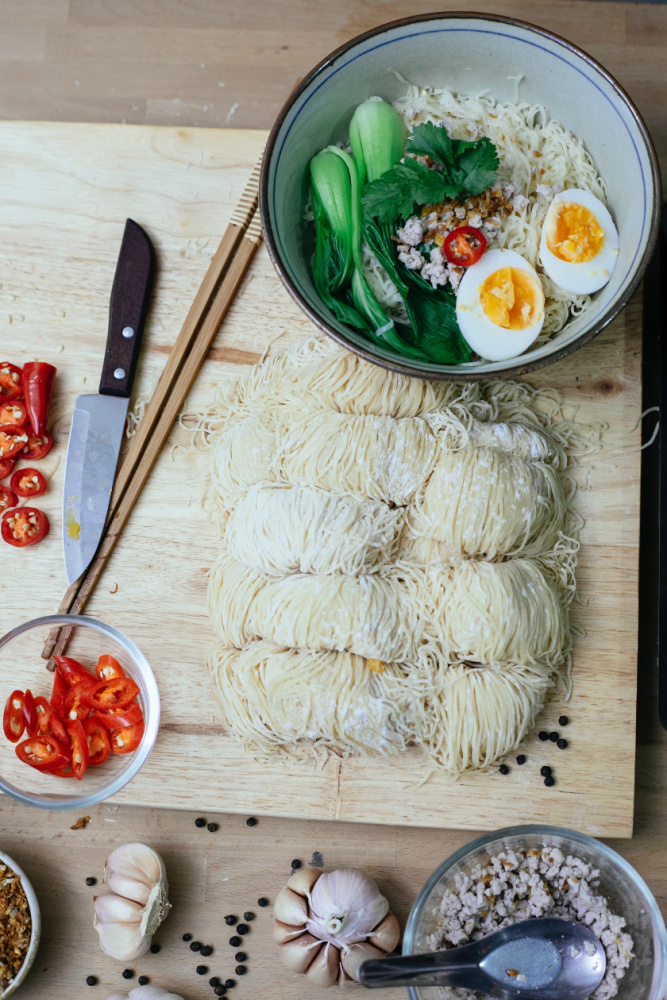 This noodle soup can be on the table in under ten minutes and makes an excellent "emergency" dinner. The meat and vegetables can be altered to suit anything that is to hand, from cupboard, fridge or freezer. Tinned or frozen sweetcorn, peas, cabbage, mushrooms – all can be used here. As long as the basics are to hand (noodles, broth, Chinese Five Spice and spring onions) everything else can be switched to suit either mood or cupboard contents.
Because it is a good means to use up leftovers this soup is very cheap and with a high vegetable content it can be counted towards our daily vegetable intake. And it is important not to underestimate the tastes of children here – they seem to love the taste of Chinese food.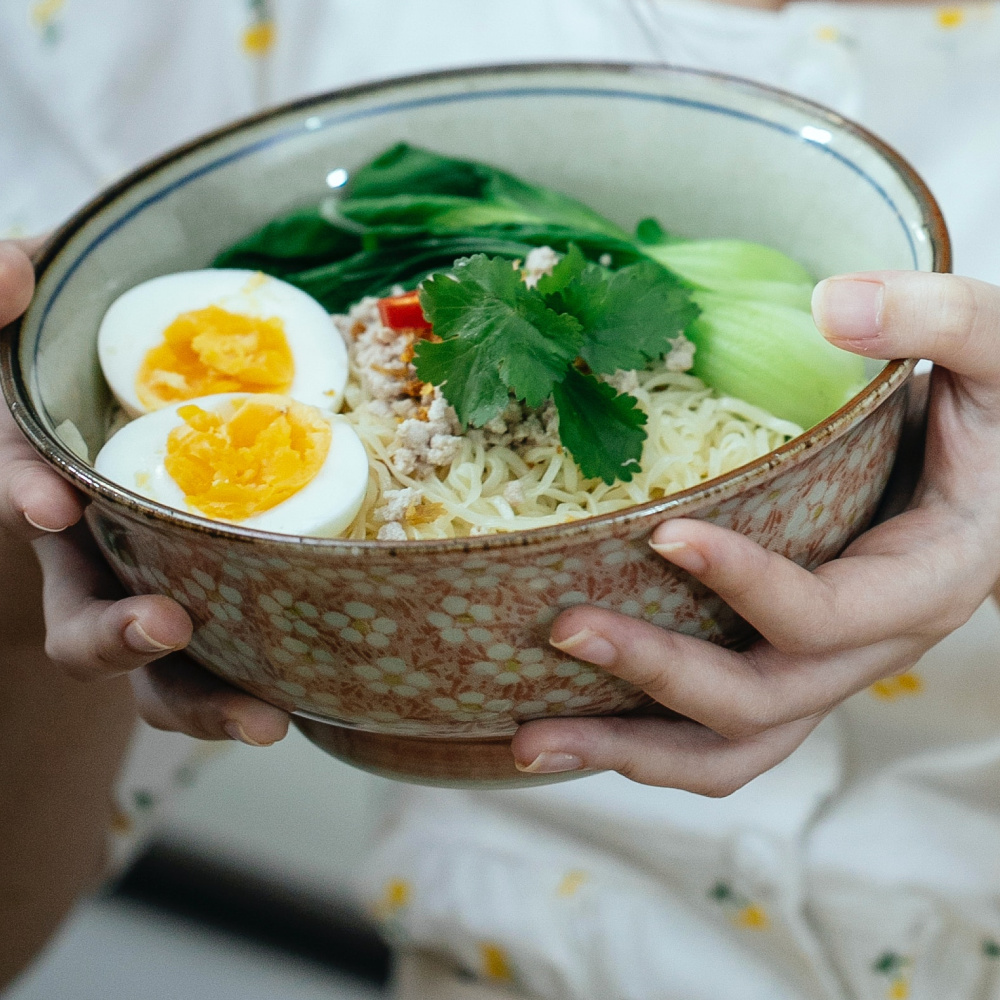 How To Make Chinese Noodle Soup
Serves 4
Ingredients:
2 pints of chicken broth
3 sheets dried medium egg noodles
1 courgette, halved lengthways and sliced finely
1 carrot, diced finely
2 large savoy cabbage leaves, finely shredded
6 chestnut mushrooms, stalks removed and sliced
shredded cooked chicken or around 15-20 raw king prawns
3 spring onions, washed thoroughly and chopped, including the green parts
2 cloves garlic, crushed and chopped
2cm piece ginger, grated
half teaspoon Chinese Five Spice powder
soy sauce
teaspoon brown sugar
Instructions:
Heat the broth in a large saucepan. As it is coming up to the boil, add the Five Spice Powder, ginger, a drizzle of soy, the sugar and garlic and stir to mix well.
Add the remaining vegetables and shredded cooked chicken and cook for 4-5 minutes.
Break the sheets of dried egg noodles each into 2-3 pieces and add to the mixture, stirring to ensure they do not stick together. The noodles will take around 4 minutes to cook.
If using prawns, add these after around 2 minutes.
When the noodles are fully cooked and soft, and the prawns (if using) are pink all over, serve by putting the noodles into a bowl and ladling the hot liquid over them, with the vegetables, chicken and prawns. Slurping optional.
Variations:
Add de-seeded red sliced chillies along with the vegetables for heat.
The recipe works well with chicken or prawns, but equally well with beef or tofu.
If beansprouts are available, a handful or two of these towards the end of cooking time will be delicious.
This recipe is incredibly versatile and will accommodate almost anything. Use it as an excuse to use up odd vegetables for a cheap and easy dinner or lunch.
Enjoy!