Creamy Sundried Tomato Chicken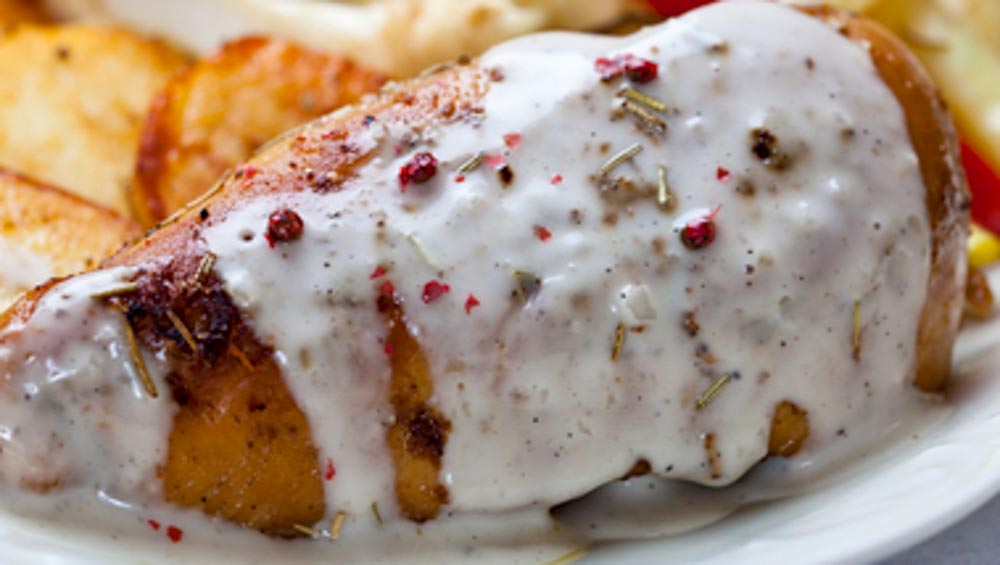 Creamy Sundried Tomato Chicken
Ingredients:
2 whole chicken breasts, bone-less
1 ½ cups heavy cream (use coconut milk as an alternative)
Good quality steak seasoning, optional
4 fresh thyme sprigs
½ cup homemade chicken stock
10-12 sun-dried tomatoes, purred in a blender or food processor
½ tsp fresh thyme leaves
Sea salt and freshly ground black pepper to taste
Directions:
Preheat your oven to 375 F.
Season the chicken breasts all over with sea salt and freshly ground black pepper. Optionally, also season them with a good quality steak seasoning. Look in your local health food store for a brand that is gluten-free and doesn't contain any vegetable seed oil.
Place them in a baking dish, place a sprig of fresh thyme on top of each and place in the preheated oven for about 45 minutes, until the juices run clear.
Meanwhile, in a large skillet over a medium-low heat, bring the cream or coconut milk and the two remaining thyme sprigs to a light boil.
Once boiling, lower heat and let simmer. Allow the cream or coconut milk to reduce by approximately 1/3 of its volume. This should take close to 10 minutes.
Remove the cream or coconut milk from the heat and allow it to sit at room temperature for about 10 minutes. Do not  remove from skillet.
Remove the thyme sprigs and return to heat. Add the chicken stock and allow to simmer for another 5 minutes.
Add the purred sun-dried tomatoes, season with salt and pepper to taste and the fresh thyme leaves.
Pour on top of the cooked chicken breasts and enjoy!
Find all our Gluten Free Recipes here