Big Hero 6: Baymax Returns on Disney XD
I absolutely love the movie Big Hero 6.  It holds a special place in my heart because I attended the press event and red carpet for Big Hero 6.  Now I'm so excited to share with you that Big Hero 6 is coming to Disney XD.
I had the opportunity to watch the TV movie and it was so good. It kind of closes some lose ends from the movie and sets us up for the next adventures.
After the viewing we were able to sit and chat with Ryan Potter (voice of Hiro) and Executive Producers Mark McCorkle, Bob Schooley & Nick Fillippi.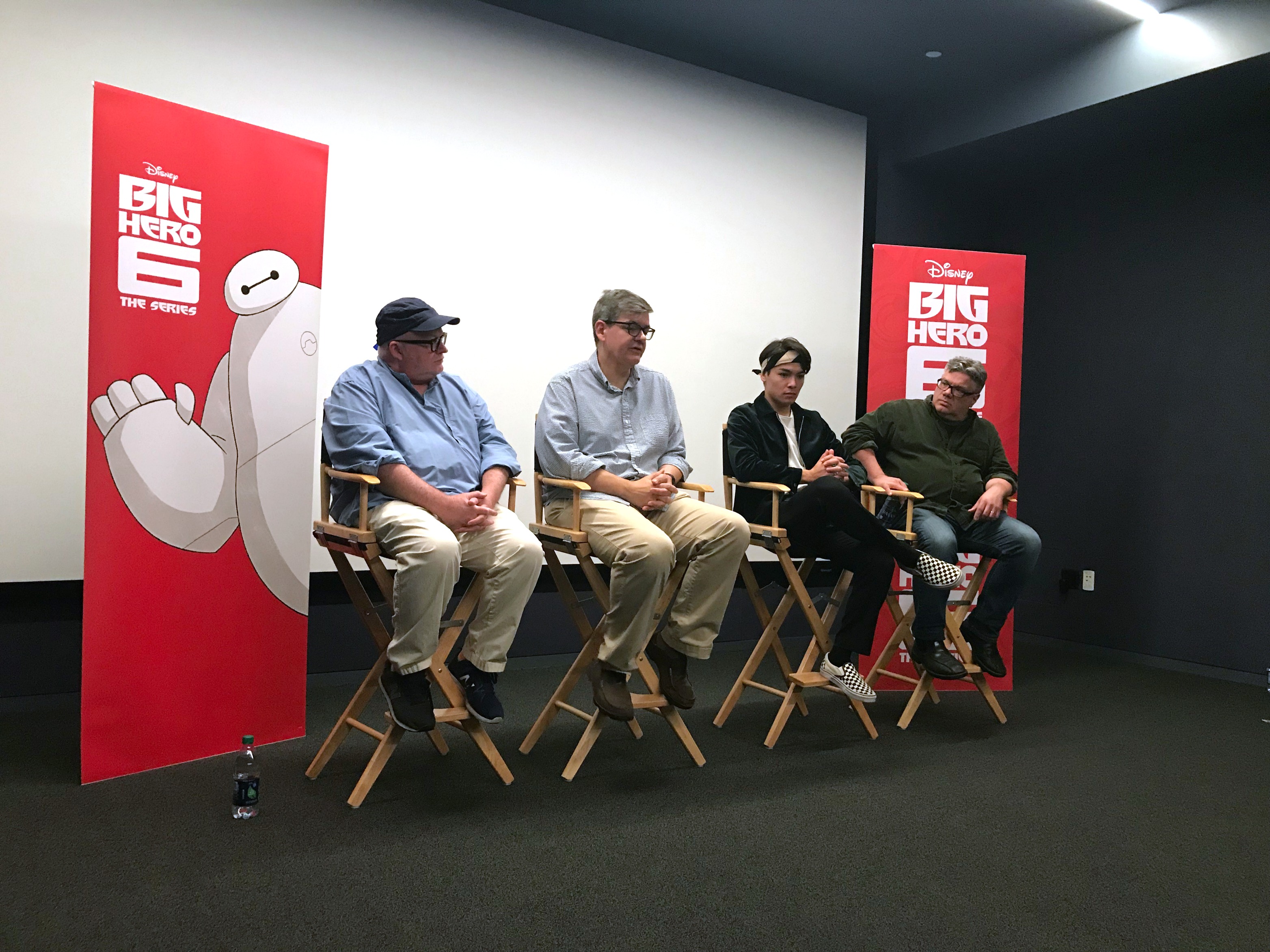 The first thing that I noticed was that the animation looked a little different. The characters and even their voices were the same, but it was a different type of animation.  The feature film was computer generated 3D and this is traditional hand-drawn animation.
When we asked how making the series compared to doing the movie it was unanimously more fun. They definitely put in just as much work, but they're able to play around more and throw ideas back and forth.  Potter shared, "Writers do a lot of work, but there's a lot of synergy for the episodes in the sense that we get to create a lot on the spot because we still animate post voice, so we don't have to always stay true to the script."
They shared that all the actors are collaborative and great at ad libbing. Schooley pointed out to us that the actors know the characters best. "We never mind if an actor is like ah I don't think that feels right for the character."
They even shared that Fred's dad (Stan Lee!) will be brought back for the show.  The back story is that he was a superhero in the past and he gets to be the voice of wisdom from Fred. They said that working with Stan Lee was intimidating, but an honor.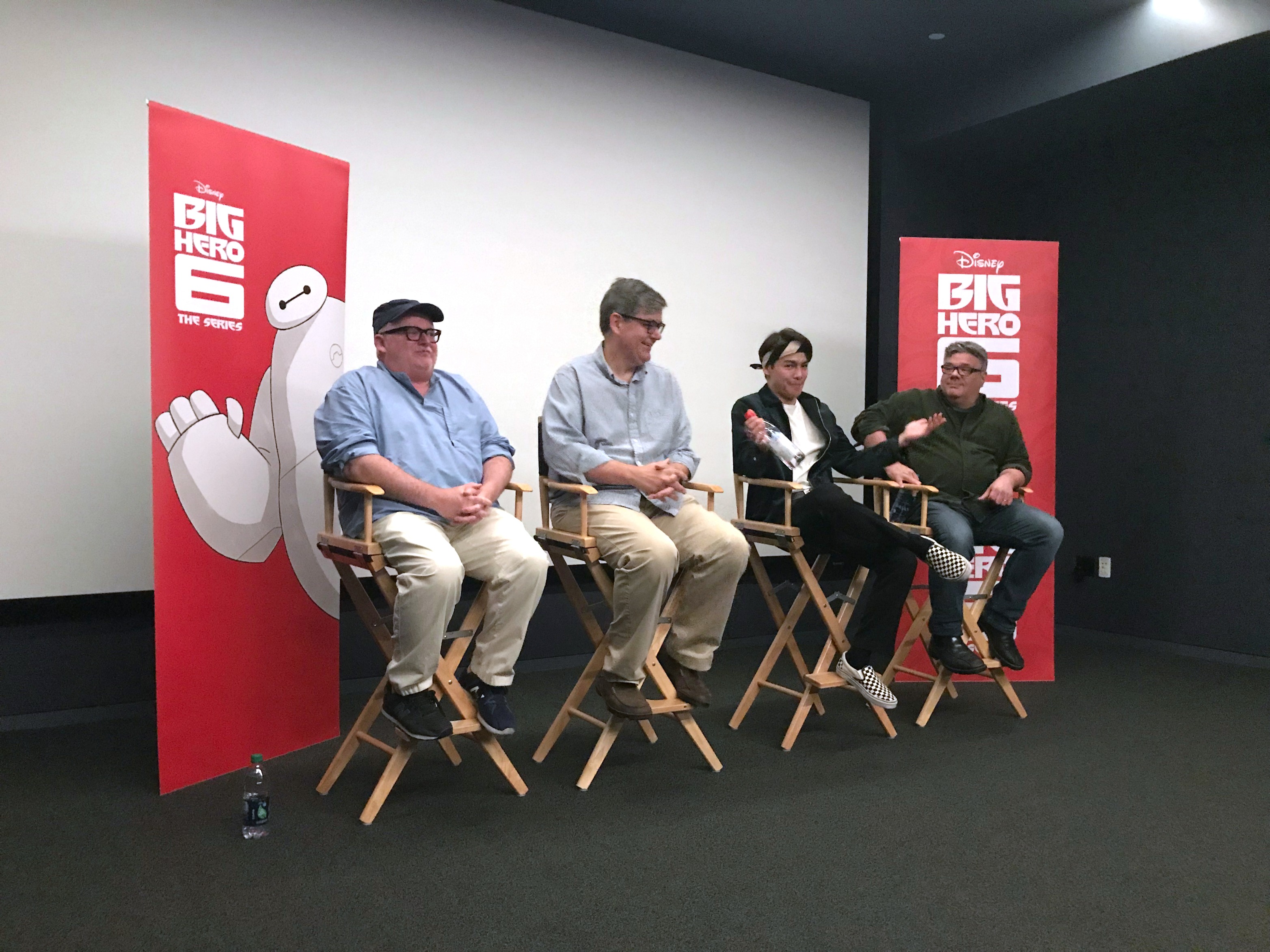 They also shared that they'd be featuring Fred, Wasabi, GoGo, and Honey Lemon more in depth. Hiro and Baymax were and are the heart of the franchise. They shared about the nice change to move the spotlight around a little bit.
McCorkle shared that he had a great time with the character of Aunt Cass. "She's a flawed caregiver. She's not entirely confident, which to me is real. That's how it is being a parent. You don't have all the answers, so for us, that's a really fun, rich character."
They will still be portraying science in a positive way which I love. It's nice that you have this group of kids that are all smart and that being smart is cool.  Potter felt that was one thing that would never change. "At the heart of the story it's just a bunch of smart kids and every problem that they encounter, they tend to solve it with their wits."
"Other than Fred." Schooley reminded us "Fred's power is his imagination."
With new adventures comes new characters.  There will be many new villains – both male and female.
Finally we asked Ryan if he had any advice for someone trying to make it in Hollywood.  "The industry is tough. You have to build a really strong team, and not strong in the sense of big and powerful, but close and personal."
I think that's great advice for life – build a really strong team. Make sure you check out Ryan and everyone else in Big Hero 6 The Series on Disney XD!