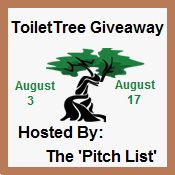 ToiletTree Products began with a simple holiday gift from Mom. After receiving a fogless mirror as a Christmas present in 2008, Steven, who had always loved the concept of shaving in the shower, made it his mission to redesign the mirror that failed to stand up to its claims of being fog-free and unshakable wall adherence. Fed up with frustration and uneven shaves, Steven joined forces with his father and brother to design a mirror that not only stayed attached to the wall, but, most importantly, guaranteed a fogless face for life!  Today, ToiletTree Products rounds out its brand with the addition of other new essential bathroom products including nail clippers, face cleanser, oral irrigator and a collection of Bamboo bathroom accessories. A family-run company, ToiletTree Products takes great pride in providing consumers with unique and innovative products of only the highest quality.
I had the opportunity to try out their Bamboo 3 Piece Accessory Kit.
This elegant bamboo 3-in-1 eco-friendly bathroom organizer will create a fashionable atmosphere in your bathroom. Its versatile design is perfect for any bathroom or kitchen counter top. I love the fact that we can keep everything together and organized and not spread all over the counter.  There is a spot for soap, toothbrushes, and we use the bar tray for the toothpaste.  It wipes clean very easily too.
Here are the product details:
3 Piece Bathroom Accessory Set – Lotion Dispenser, Tooth Brush Holder and Soap Dish
Made from 100% natural eco-friendly bamboo.
Modern, unique and functional style.
Perfect for any bathroom or kitchen counter top.
One lucky reader will be winning an Accessory Kit of their own!  Just fill out the rafflecopter below.
DonnasDealsAndMore receives free products for review purposes, and may sometimes be compensated for posts. All opinions expressed are solely from DonnasDealsAndMore. See DonnasDealsAndMore's Disclosure Policy for complete details. My opinions are my own and were not influenced by any form of compensation.
a Rafflecopter giveaway